Arts
| Course/Lecture | Instructor | Date/Time |
| --- | --- | --- |
| Silent Film's Lillian Gish: "True Heart Susie" | Patrick Miller | Tues., Sept. 5, 3:30–5 p.m. |
| Florence Price: A Composer Rediscovered (lecture only) | Melissa White | Tues., Sept. 19, 4:30–6 p.m. (lecture only) |
| Florence Price: A Composer Rediscovered (lecture + performance) | Melissa White | Tues., Sept. 19, 4:30–6 p.m. (lecture), Sun. Oct. 22, 3 p.m. (HSO performance) |
| What We Talk About When We Talk About Art | Cat Balco, Carrie Cushman, and Zee Onuf | Thurs., Sept. 21, 28, Oct. 12, 12:30–2 p.m. |
| Carries Weight: A Performance Art Project with Mountains & Saxophones | Carrie Koffman | Tues., Oct 3, 3:30–5 p.m. |
| Talking Jazz: From "Bird" to Miles | Javon Jackson, Matt DeChamplain | Wed., Oct. 4, 18, 25, 3–4:30 p.m. |
| Playing with "Pride and Prejudice" (lecture only) | Catherine Stevenson | Thurs., Oct. 19, 2–3:30 p.m. |
| Playing with "Pride and Prejudice" at Hartford Stage (2 lectures + performance) | Catherine Stevenson, Melia Bensussen | Tues., Oct. 24, 31, 2:30–4 p.m. (2 lectures), Sun. Oct. 29, 1 p.m. talk, 2 p.m. (performance) |
| Thursday at the Movies: Spy Thrillers | Michael Walsh | Thurs., Nov. 9, 16, 30, Dec. 7, 3–4:30 p.m. |
| Give Me Your Hand: A Celtic Musical Celebration | Dee Hansen, Eric Hansen, and Neal Humphries | Fri., Dec. 1, 2–3:30 p.m. |
| The Melody Lingers On: From Beethoven to the Beatles | Steve Metcalf | Mon., Dec. 11, 2–3:30 p.m. |
The Presidents' College Café
History and Current Events
| Course/Lecture | Instructor | Date/Time |
| --- | --- | --- |
| Hot Topics in a Pre-Election Year | Warren Goldstein | Tues., Sept. 26, Oct. 10, 24, 12:30–2 p.m. |
| Supreme Court Round-Up, 2022-23 | Jilda Aliotta | Mon., Oct. 2, 9, 16, 23, 4:30–6 p.m. |
| Trials That Shaped America: Legal Battles of Muhammad Ali plus The Trail of Tears | David Goldenberg | Thurs., Nov. 2, 9, 10:30 a.m.–noon |
| The Ambassador Who Tried to Prevent the Attack on Pearl Harbor | Steve Kemper | Friday, Nov. 10, 2–3:30 p.m. |
| Trials That Shaped America: The Rosenberg Case | David Goldenberg | Tues., Nov. 14, 2–3:30 p.m. |
Literature and Culture
| Course/Lecture | Instructor | Date/Time |
| --- | --- | --- |
| The Booker Prize Book Club: A Sampling | Michele Troy | Tues., Sept. 12, Oct. 17, Nov. 14, 2–3:30 p.m. |
| The Silent Book Club at Playhouse on Park | Michele Troy | Tues., Oct. 17, 5:30–7:30 p.m. |
| The Silent Book Club at Real Art Ways | Michele Troy | Wed., Nov. 15, 5:30-7:30 p.m. |
| Jewish Humor: From The Catskills to Comedy Central | Amy Weiss | Tues., Dec. 5, 3:30–5 p.m. |
Science and Engineering
| Course/Lecture | Instructor | Date/Time |
| --- | --- | --- |
| Sustainable Communities Now: How We Get There | David Pines, Cy Yavuzturk | Fri., Sept. 15, 22, 29, 10:30 a.m.–noon |
| Welcome to the Pyrocene: Forest Fires and the Future | Laura Pence | Mon., Sept. 18, 2–3:30 p.m. |
| Race for the Skies: The Wrights vs. Langley | Paul Slaboch | Fri, Oct. 20, 1:30–3 p.m. |
| Deep Fakes: Fighting Unregulated A.I. | Adam Chiara | Tues., Oct. 31, 10–11:30 a.m. |
| Water: Our Most Threatened Resource | Mike Magee | Wed., Nov. 1, 8, 15, 29, 1:30–3 p.m. |
Gift Certificates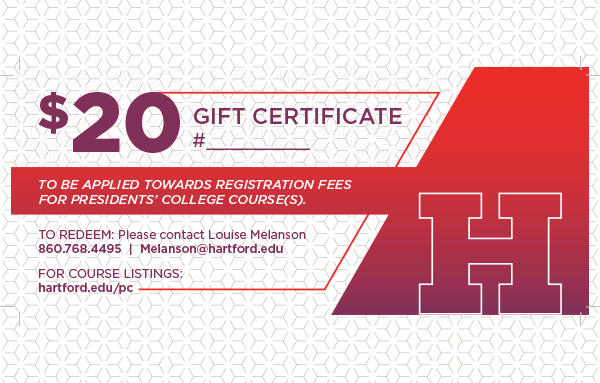 Perfect for birthdays and un-birthdays alike!
Give the gift of knowledge and connect the curious to the Presidents' College all year long.
Course and Lecture Locations
In addition to multiple meeting places on UHart's campus, we hold courses and lectures at the following locations:
McLean Retirement Community
75 Great Pond Road Simsbury, CT 06070
Google Maps
Duncaster Senior Living
40 Loeffler Road Bloomfield, CT 06002
Google Maps
The McAuley
275 Steele Road West Hartford, CT 06117
Google Maps
Need Help?
Course registration: Contact Laurie Fasciano
Technical assistance: ITS Help Desk, Monday–Friday 7:30 a.m.–10:30 p.m.. You can call them at 860.768.4357 or email helpdesk@hartford.edu.