The role of research in education and health sciences is central to a college that prepares students to be engaged practitioners who have sound foundations in evidence-based best practices. Our research addresses challenges in communities we serve and focuses on a clear translation between theory and practice. Many of our students, both undergraduate and graduate, are mentored by faculty members and work closely with our research partners in school and clinical settings.
Through internal funding, the College of Education, Nursing and Health Professions supports faculty members' collaborative scholarly activities (resulting in many published articles and books) while our community partnerships provide exciting experiential learning opportunities both locally and abroad. Throughout each year, we offer opportunities to celebrate and showcase student, faculty, and partner research, including our signature event, ENHP Day in the spring.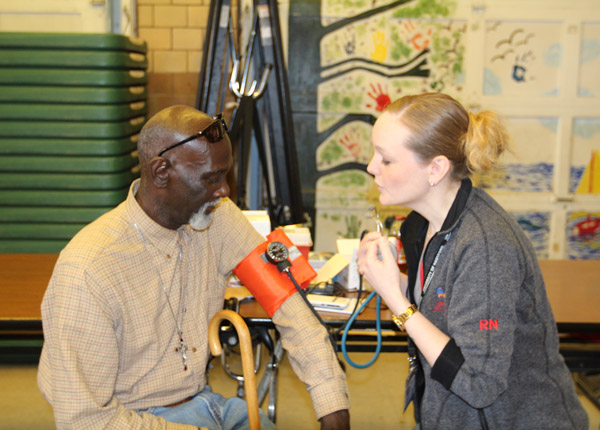 Nursing Students Promote Public Health in Hartford
For more than 25 years, nursing students have volunteered at local homeless shelters, soup kitchens, and schools to promote public health in Hartford, Conn. through Project Horizon.
Project Horizon uses community-based participatory research (CBPR) methods that include active community participation in the research process to foster communication among community members and researchers to reduce health risks.
Faculty's Research Goes Underwater with Combat Wounded Veteran Challenge
Assistant Professor Duffy Felmlee joined combat-wounded veterans underwater to observe how they use balance and other strategies to perform tasks. Felmlee, with University of Hartford graduate Michael McCauley, an orthotist/prosthetist and researcher, also attached sensors to the veterans' legs to observe movement. The goal of the research is to increase the body of knowledge in regard to swimming with a prosthesis.