Center for Montessori Studies
The Center for Montessori Studies is an intellectual community co-founded by researchers and practitioners contributing to Montessori education and the broader implications of Dr. Maria Montessori's theories on human development, learning, and social reform. The Center was founded in 2017. 
Center Priorities
Create new knowledge 

About Montessori education through research in our greater Hartford community as well as the larger international Montessori community.
Through Montessori Teacher Education Exchange to promote dialogue and the exchange of ideas among and between higher education Montessori preparation programs.

Facilitate exchange 

Focus a diaspora of emerging Montessori research efforts.
Educate and socialize the next generation of Montessori researchers.
Generate and disseminate new knowledge about the Montessori movement through research.

Advance the field of Montessori education 

Transfer knowledge about Montessori education through degree program at all academic levels.
Ensure relevance of undergraduate and graduate programs through data-informed decisions.
Sustain a physical location and virtual structure for researchers and practitioners to collaborate.
Montessori Community Engagement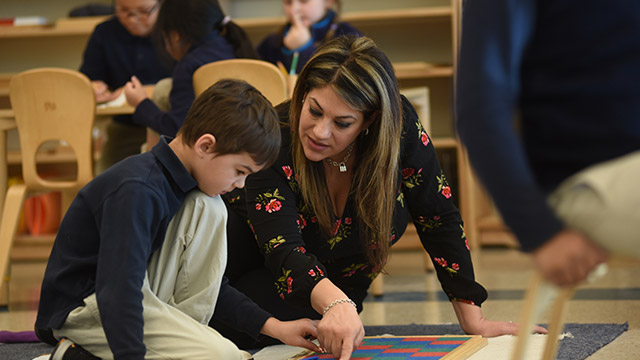 Who is part of this larger community?
Association Montessori International

 

and the organization's

 

Bold Goal project
Current students in bachelor's degree with Montessori education concentration
James Walton Fund, Walton Family Foundation through the $4.8 Walton Family Foundation Grant Award 
Current students and alumni of Master of Education with Montessori education concentration
Montessori Higher Education Exchange - On May 28-30, 2018, leaders from AMI and AMS Higher Education TEP's gathered at the Center for Montessori Studies at the University of Hartford to begin to establish a network of information exchange and reciprocal collaboration.  The Montessori Higher Education Exchange is an initiative to connect Montessori program leaders to identify and pursue opportunities specific to Montessori education programs located in institutions of higher education and establish a nimble, responsive network among the emerging influences on education, specifically the US public school landscape occurring in Montessori and non-Montessori. The Montessori Higher Education Exchange continues to come together and currently efforts are focused on bachelor's degree pathways.
Montessori Public Policy Initiative

 

(MPPI) - Our partners in providing advocacy training and resources for Montessori educators.
Educators Sans Frontiers (EsF)
Public and Private Montessori Schools

CREC Montessori Magnet School
Montessori Magnet at Annie Fisher School, Hartford Public Schools
Montessori Magnet at Batchelder, Hartford Public Schools (formerly at Moylan)
Montessori School of Greater Hartford
The Cobb School
Center Events
Montessori Studies Webinars
Angeline Lillard, professor of Psychology, University of Virginia, returned to campus six years later to speak to the Hartford-based longitudinal study dissemination and the published article Montessori Preschool Elevates and Equalizes Child Outcomes: A Longitudinal Study, the most cited article in 2018 in Frontiers. Paige Bray, director of Montessori Studies at UHart, is also a contributing author. Lillard is the author of Montessori: The Science Behind the Genius (March 2019) and signed books as well as enjoyed alumni and friends at the Montessori Training Center Northeast, Butterworth Hall, UHart Asylum Ave campus.
Montessori Schools of Connecticut Conference, co-sponsored by the Institute of Translational Research's Center for Learning and Professional Education, Montessori Studies Initiative with keynote speaker Dr. Howard Gardner, the Hobbs Professor of Cognition and Education at the Harvard Graduate School of Education. Gardner has studied and written extensively about intelligence, creativity, leadership, and professional ethics, and is senior director of Project Zero and co-founder of the Good Project (October 2018). Read more.
Celebrating 10 years of Partnership (Oct. 11, 2017) - The University of Hartford and the Montessori Training Center Northeast (MTCNE) celebrated 10 years of partnership and their recent milestones with an open house at MTCNE's newly renovated facility at Butterworth Hall on UHart's Asylum Avenue campus in Hartford.
Research
Our research efforts serve the local and global Montessori community by preparing Montessori teachers in the context of a generative research community and seeking to prepare the next generation of Montessori scholars.  
Select Research Projects
Research and Teaching Fellows
Founding Fellows:
Paige M. Bray, director of Montessori Studies, College of Education, Nursing and Health Professions
Tim Nee, managing director, Montessori Training Center Northeast, CREC
Joshua Russell, Chair of Music Education, Hartt School
Teaching Fellows:
Gretchen Hall, AMI Primary Trainer
Gerry Leonard, AMI Elementary Trainer
Carla Foster, AMI Elementary Trainer
Dora Maria Vidales, AMI Assistant to Infancy Trainer
Visiting Teaching Fellow
David Kahn, Montessori Adolescent Programs
Research Fellow
Courtney Reim, coordinator of Data & Programmatic Information
Contact Us
For more information about and how to engage with the Center for Montessori Studies, contact Paige Bray, associate professor, Department of Education and director of Montessori Studies at bray@hartford.edu