The Hartt School
Actor Training
The actor training major challenges you to expand both your craft and your creative imagination so that you can be successful in a broad range of theatrical styles from the contemporary to the classical. A carefully planned progression of acting, voice and speech, and movement classes stimulates your talent and builds the capacity to be bold and innovative. Fourth-year actor training students audition for roles in the Hartford Stage Company's season, including its annual production of A Christmas Carol.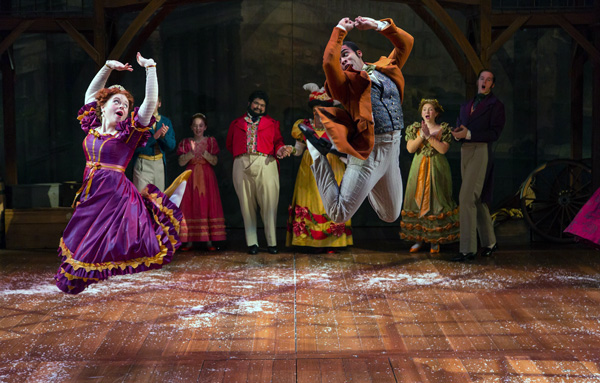 Performance opportunities at Hartt are extensive and designed to expose students to plays from across the theatrical repertoire. Starting with second year projects and culminating with full-scale, professionally designed productions, the plays are chosen to provide each class with challenging onstage experiences. In the spring semester of the third year, Actor Training students receive approximately ten weeks of intensive Shakespeare training in England with our faculty from the professional British theatre. Attendance at several productions in London and Stratford enhance this unique educational opportunity.
For more information, and to see a complete list of degree requirements, view the Course Catalog.
Admission and Audition Requirements
Theatre auditions and interviews are typically conducted on campus as well as in select cities around the United States, and The Hartt School accepts recorded auditions for applicants who reside more than 300 miles from campus. 
Pre-screen auditions will be required for Actor Training applicants and will be conducted via virtual/recorded video format. Pre-screens must be submitted by December 15! 
Shawn-Caulin Young
BFA, Actor Training, 2004
Currently residing in Los Angeles, Shawn-Caulin Young is an accomplished actor, director, producer, and respected acting coach. He has had acting roles on TV series including True Detective, Santa Clarita Diet, and Godless.  Recently, Young played the role of Crystal in the film Heart, Baby, the story of George Lee Martin, an African American prison boxer who turned down freedom and Olympic glory to stay in prison. In addition to acting in the film, Young was one of the  producers. Prior to filming, Young returned to Hartt to work with Theatre faculty to prepare for the role of Crystal, a real-life transgender female inmate.
LEARN MORE about Shawn
Hartt possesses a unique and very special staff of artists who knew exactly how to elevate my craft and prepare me for the role of a lifetime.