At Hartt, we prepare you to embark on a lifelong fulfilling career in fields such as performance, education, management, recording, composing, and conducting.
You will engage with the professional world through masterclasses, guest artists, professional partnerships in training, internships, and opportunities to perform around the world and alongside our esteemed faculty.
UHart Partners with NETworks Presentations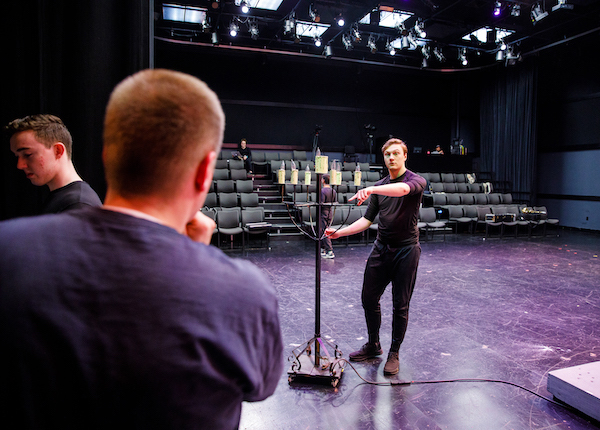 The University of Hartford continues to broaden its career-ready offerings with this unique partnership!
The Hartt School launched two new BFA programs for the Fall of 2021 in Stage Management and Technical Theatre as a response to industry demand.  Hartt believes the best way to learn and perfect your craft is by doing, and NETworks Presentations will offer Hartt students the hands-on training needed to bring success.
COMMITMENT TO EXCELLENCE
NETworks is committed to developing outstanding value, continuous innovation, and an exceptional audience experience and will look to The Hartt School to help fill the roles required to make each performance memorable to the audience.
NETworks Offers Hartt Students Immersive Opportunities
NETworks is thrilled to collaborate with Hartt, offering students through this 8 – 12 week paid internship, unparalleled opportunities for hands-on training and learning in areas such as:
Immersive hand-on training in areas such as producing, stage management, general management, booking, finance, and marketing
Exposure to nationally and internationally recognized theatrical artists and arts managements leaders
Involvement in special projects of personal interest with benefit to NETworks and/or the tour.
Collaborative work opportunities across the organization
NETworks Scholarship
Students majoring in technical theatre and stage management will have the opportunity to be considered for our NETworks Scholarship. First preference for the scholarship will go to students who are underrepresented in these two career fields. Each scholarship will be awarded up to four students per year. To be considered for the NETworks Scholarship, students should submit their application to the University of Hartford and complete the necessary admission requirements, including an interview. 
Learn from Industry Professionals
Master classes by visiting performers/teachers of international notoriety are regular occurrences at Hartt. These guest artists provide comments, criticism and feedback on our students' playing and performing, but also offer their own perspectives on their art and arts purpose in the world.
Additional Partnerships
The Hartt School and the University of Hartford has professional partnerships with companies and organizations throughout the country, making internships and other professional options readily accessible. A few of our arts partners include Goodspeed Opera House, Hartford Stage, and the Stamford Symphony.
UHart Partners