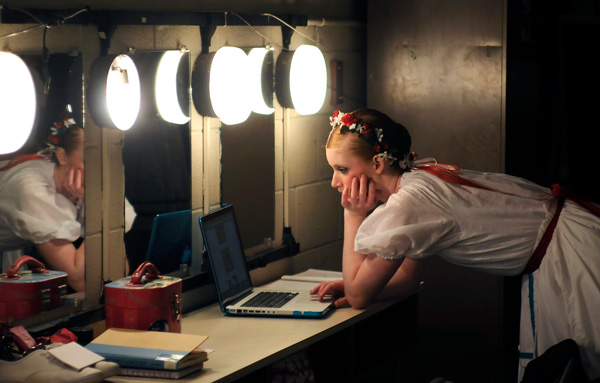 The Hartt Dance Division is dedicated to preparing students for meaningful lifelong professional careers in the demanding and evolving field of Dance. Through rigorous, innovative, and integrated learning experiences our students develop their abilities to successfully navigate unique career journeys. Our culture of deeply supported learning engages students in professionally relevant and diverse performing, teaching, and creative opportunities that have an international scope and real world significance. Our graduates emerge with a substantial set of skills which allow them to thrive in the changing world they are entering.
In order to do this effectively, we have created a unique curriculum which integrates skill sets with broad applications and exposure to the larger field of dance related occupations. Our curriculum supports the performer, the teacher, and the creator.
We offer Bachelor of Fine Arts degree programs in Dance Performance and Ballet Pedagogy (teaching). Hartt dancers develop their skills through many performance opportunities, teaching internships, and participation in a rigorous conservatory-style curriculum with expert instruction from world-renowned faculty and guest artists. Performance opportunities begin in the first year of study and are available to all majors. Students train in classical ballet, modern dance, and contemporary techniques with additional coursework in music, dance composition, pedagogy, performance techniques, kinesiology, repertory, technology in dance, and dance history. It is our goal to graduate technically competent, knowledgeable artists who are capable of adapting to the varied demands of a lifelong career in dance and prepared to lead the field into the future.
The University of Hartford is an accredited institutional member of the National Association of Schools of Dance.
Best College Dance Programs for 2023-2024
For the fifth year in a row, Hartt Dance has been included in DanceUS.org's list of best college dance programs in the USA for 2023-2024. DanceUS.org is the leading portal for dance professionals, learners, and enthusiasts.
Beyond the Stage
In addition, all of our dance majors are eligible to pursue a wide variety of academic minors within the University of Hartford.  Business, Entrepreneurial Studies, Performing Arts Management, Communication, Art History, and Psychology are examples of a few of our current students' choices of minors.
Performance Opportunities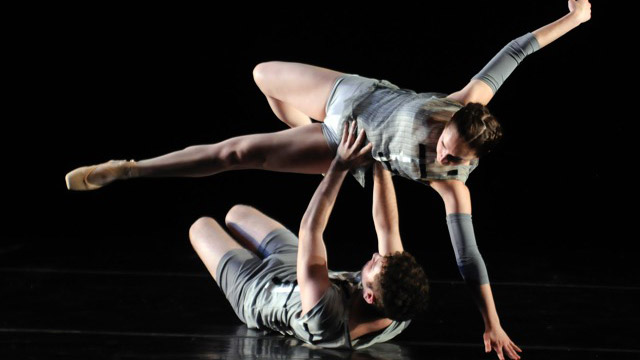 Hartt's Dance Division produces two main-stage concerts every year showcasing students in the works of the most significant choreographers past and present. Concerts are fully produced and often in collaboration with the live music from Hartt musicians. In addition, dance students perform in Musical Theatre and Opera productions as well as in an ever-expanding roster of mentored interdisciplinary collaborative events.
As part of their composition curriculum, fourth year dance majors present two black box concerts of their choreography each year, one of which is in collaboration with Hartt composers. They hold auditions and cast their undergraduate classmates in their work. The educational experience exactly mirrors that of a professional choreographer's responsibilities. Students also commission solo choreography from professional choreographers for this performance.
While matriculating to graduation, students in good standing are selected to perform with many professional companies including Hartford Stage, Hartford Symphony, others.
Mikaela Papasodero
BFA, Dance Performance, 2019
Mikaela's senior piece, Spectrum,  has since been performed at the Ailey Citigroup Theater, the Boston Contemporary Dance Festival, and the Versatility Dance Festival. She was also recently asked to perform the work for a show at RIOULT Dance Center, where she was able to present alongside artists such as Jenn Freeman, Maleek Washington, Jon Lehrer, Pascal Rioult, and Hannah Cullen.
Mikaela currently works for two professional dance companies in NYC: Amirov Dance Theater and Rioult Repertory Project. She also enjoys traveling all over the United States to perform and guest teach. Learn more about Mikaela's Hartt experience.
I was extremely close with my class, and still talk to all of them everyday. They're my family, and they always will be.