Hillyer College
The Humanities are the core of a liberal arts education that prepares you for a thoughtful, active, and ethical life.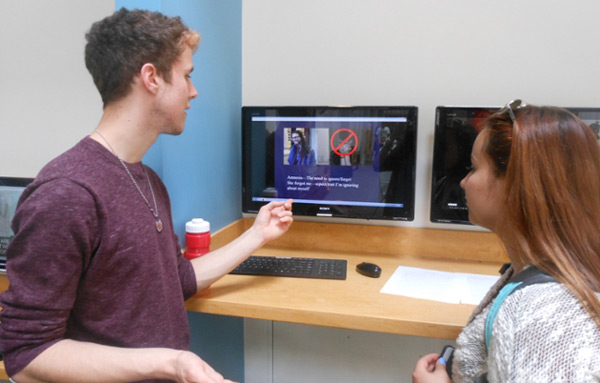 About the Department
Learn from our faculty who are experts in the disciplines of:
History
Art History
Philosophy
Communication and Speech
Music
Theater
No matter what class you take, you will connect what you study to the contemporary issues that affect us all.  Your professors will guide you through class discussions as you question the past and seek to understand the traditions and histories of the world's diverse peoples.
Career Outlook
Many careers benefit from the thinking and communication skills provided by a humanities education, including:
Business
Law
Education
Social work
The Arts
Hannah Shershow
Communication, '23
Hannah says her time at Hillyer College was academically challenging, fun, and the best way to transition from high school into college. When Hannah started at UHart, she was not sure of her academic goals and says with the help of her Hillyer professors, she soon found what she enjoyed and was able to fully delve into her academic journey. One of Hannah's recent successes was serving as the director of the student-run public relations agency Crested Communications, which produces strategic marketing plans for real clients. In this role, she oversaw the creation of a social media campaign for CVS pharmacy.
Read more
.
I've gained a lot of knowledge from my work on the marketing team. My experience includes conducting interviews and writing for various marketing projects.
Robert Churchill, PhD
Professor of History ,
In his latest book, T
he Underground Railroad and the Geography of Violence in Antebellum America
, (Cambridge University Press, 2020), Hillyer College Professor of History, and noted historian of American political violence, Robert Churchill, examines the role geography and violence play in the narrative of the Underground Railroad.
Read more
.
The country, particularly the north, was grappling with a very particularly southern style of violence that was acted out by slave catchers when they came north to recover fugitives. In the lower northern border states like Indiana, Illinois, Ohio, Pennsylvania, and New Jersey, you have a very different culture. One that is really emphasizing human dignity, one that emphasizes law and order."
Michael Robinson
Professor, History
Research Interests: History of science, history of exploration
Why do you enjoy teaching students in Hillyer?
A lot of students hate history. Some are bored. Others are intimidated. It's a huge thrill when I see them change their minds.