Hillyer College
The Humanities are the core of a liberal arts education that prepares you for a thoughtful, active, and ethical life.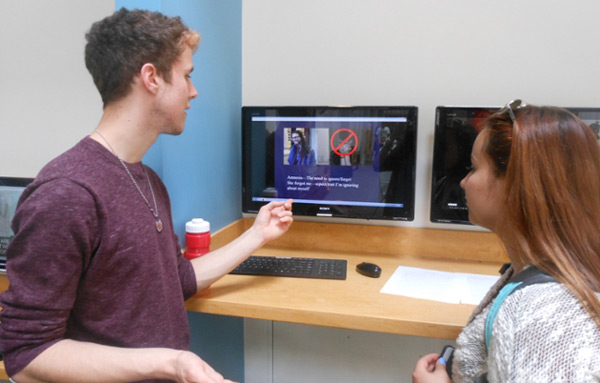 About the Department
Learn from our faculty who are experts in the disciplines of:
History
Art History
Philosophy
Communication and Speech
Music
Theater
No matter what class you take, you will connect what you study to the contemporary issues that affect us all.  Your professors will guide you through class discussions as you question the past and seek to understand the traditions and histories of the world's diverse peoples.
Career Outlook
Many careers benefit from the thinking and communication skills provided by a humanities education, including:
Business
Law
Education
Social work
The Arts
Robert Churchill, PhD
Professor of History ,
In his latest book, T
he Underground Railroad and the Geography of Violence in Antebellum America
, (Cambridge University Press, 2020), Hillyer College Professor of History, and noted historian of American political violence, Robert Churchill, examines the role geography and violence play in the narrative of the Underground Railroad.
Read more
.
The country, particularly the north, was grappling with a very particularly southern style of violence that was acted out by slave catchers when they came north to recover fugitives. In the lower northern border states like Indiana, Illinois, Ohio, Pennsylvania, and New Jersey, you have a very different culture. One that is really emphasizing human dignity, one that emphasizes law and order."
Rebecca Townsend
Assistant Professor, Communication
Research Interests: Rhetoric and culture of communication; deliberation in public engagement, government and public policy; language and social interaction
Why do you enjoy teaching students in Hillyer?
Communication is one of the major ways humans shape society. I love teaching students about communication because there is always the hope they will shape it better than the way they found it. Students can gain new abilities, and cultivate their own personal, professional, or civic capacities. They can make positive changes for themselves and our world.
Michael Robinson
Professor, History
Research Interests: History of science, history of exploration
Why do you enjoy teaching students in Hillyer?
A lot of students hate history. Some are bored. Others are intimidated. It's a huge thrill when I see them change their minds.