Meet Yavana: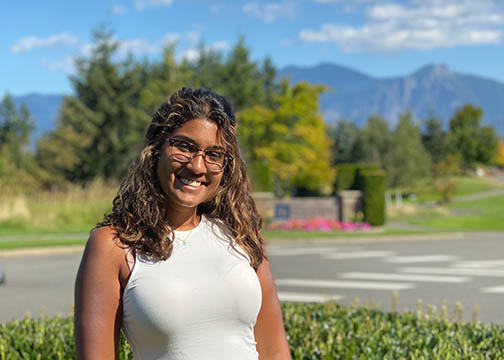 What is your job title/employer name?
I am a Research Associate at Pacific Northwest National Laboratory (PNNL), a US Department of Energy National Laboratory.
What part of your UHart experience had the greatest impact on your career today?
I am so thankful that I was involved in various fields throughout my undergrad! The greatest impact would be my interdisciplinary degree track. I use the technical knowledge I gained in my study of chemistry along with the practical knowledge I gained in my study of political science. However, being a leader in the Student Government Association, specifically working on the Board of Regents, added such valuable public speaking skills that I use every day.
What led you to the job or career you have and where do you hope to fly next?
The projects that I work on for PNNL have a science and a policy basis. I chose this field because it helps me figure out where my interests and talents are. I hope to work for an international organization, so I hope my next flight is international. 
Hawks have an allegiance to their nesting site and return each year. If you were back on campus, what is one spot you'd have to make sure to visit? 
If I were back on campus, I would be first in line at Einsteins Bagel Bros ordering an asiago bagel and a hot coffee.
Hawks can see eight times better than humans and dive 150 mph through the air. If you had to choose between super-human speed and super-human eyesight, which would you pick? 
If I had to choose, it would be super-human speed! I am always late, so this would come in super handy!