Barney School of Business
Finance
A background in finance opens up countless opportunities in the world of business.
About the Major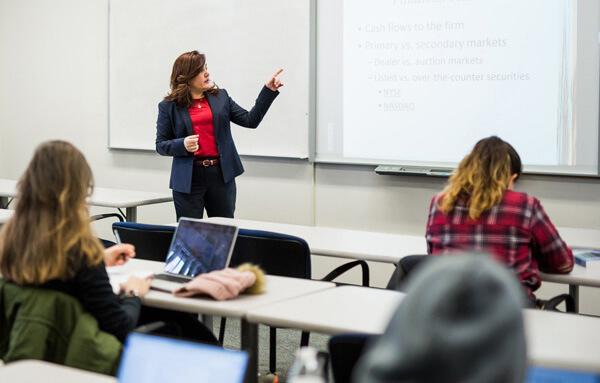 The finance major gives you a foundation in corporate finance, investments, portfolio management, and international finance. And, pursue your interests in more specialized areas such as entrepreneurial finance, money and banking, portfolio management, and real estate finance.
Degree Requirements
The program combines core classes, specialized courses, electives, and an internship. You will graduate with a Bachelor of Science in Business Administration.
World of Business
Introduction to Quantitative Methods for Business
Financial Accounting
Management and Organizational Behavior
Exploring and Planning Career Options
Specialized Finance Classes
Intermediate Finance
Investment Analysis
Portfolio Management
International Finance
Internship in Finance
Two Electives in Finance
Career Outlook
A solid base in economics and finance is a valuable background for any business professional. Specific careers in finance include governmental or business consulting, stock and bond market trading, banking, or international business. Finance also provide a strong foundation toward graduate work in economics, business, public administration, law, and international trade.
Kaitlyn Keeler '21, Finance
FLDP Analyst, CVS Health,
Despite a busy schedule spent balancing a three-year accelerated track in the Barney School's finance program, an internship, and a part-time job, Kaitlyn says she has always valued the importance of giving back to the community. As a member of the Barney Leadership Council, she has participated in fundraising events with community groups such as Junior Achievement, community cleanups, and partnerships with organizations such as Foodshare. Kaitlyn intends to continue refining her skills as a strong finance leader through Aetna's Finance Leadership Development Program. Learn more.
I believe UHart has provided me with unique opportunities to develop and fine-tune my leadership skills.