We offer two organizations to give you hands-on experience, professional development, and an expanded business network: Barney Graduate Consulting Services and Women of Barney.
Barney Graduate Consulting Services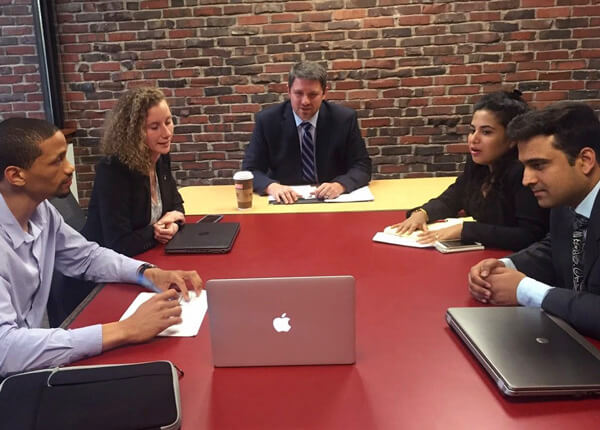 Barney Graduate Consulting Services (BGCS) is a consulting group made up of graduate students and alumni that provides free advisory services to small businesses in Hartford County. Our students get hands-on experience in marketing consulting, financial analysis, strategy, and business planning.
Clients have included a specialty goods retailer, a local real estate company, an indoor sports center, a wheelchair youth basketball camp, a professional photographer, and start-up companies.
If you're an MBA or MSAT grad student, and interested in becoming a member to help out small businesses, please email bgcs@hartford.edu. Students can opt to earn class credit, or join voluntarily. BGCS accepts a small number of students per year based on their past work experience and academic ability. We are currently accepting applications for future semester openings.
We are currently looking for additional projects to work on in the future. If you are a small business owner and would like our support, please email us at bgcs@hartford.edu. Our requirements for potential clients are that they must do business in the Hartford region, have less than 10 employees, and do under $2 million in sales.
"We were extremely impressed with the professionalism, business savvy, and expertise demonstrated. We will definitely recommend BGCS services!" West Hartford Chamber of Commerce.
"We were very impressed with the level of detail BGCS gathered in a relatively short time span. Their presentation was thoughtful and concise. The short term and long term recommendations BGCS made are very actionable for our business. We would highly recommend Barney Graduate Consulting Services." Valley Sports Center.
"I am thrilled about working with The Barney Consulting Group; and feel that the information the group gave me in regard to growing my business was extremely helpful! Thanks so much." Cynthia Burke and Associates.
Women of Barney (WOMBAR)
WOMBAR is a professional organization for current graduate students and alumni that is focused on expanding women's competence, confidence, and connectivity through a sharing and caring environment of like-minded women.
Be a professional organization focused on expanding women's competence, confidence and connectivity through a sharing and caring environment of like-minded women.
Engage: Build relationship with professional women alums and graduate students who work in a wide variety of industries and organizations. Support local women owned businesses and leverage your skills to give back to the community.
Develop: Stay up to date with the latest business practices and fine tune your leadership skills with workshops that will help increase your business acumen. Participate in mentoring programs that enable women to build confidence and skills in a community of like minded people.
Connect: Attend networking and knowledge sharing forums to connect with women from across the business world. Create partnerships with MBA program ambassadors at companies and build opportunities.
Gain access to resources, professional development and networking opportunities to enhance your career. We have events and offerings aimed at helping you grow, including workshops, virtual forums, and networking.
In order for WOMBAR to successfully deliver on its mission to support women's needs by creating opportunities for personal growth, development, connection and community, we rely on the passion and dedication of volunteers. Build a network, gain skills and experience, and develop as a leader.

If you want to share your talent and energy to help support the vision and mission of WOMBAR – contact us at WOMBAR@hartford.edu.