Mackenzie Ford is UHart's First Montessori Bachelor's Degree Graduate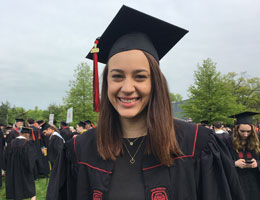 When Mackenzie Ford received her degree at Commencement on May 19, her achievement wasn't only a personal milestone. She's also the first graduate of UHart's Montessori bachelor's degree program.
Mackenzie, a native of Chantilly, Virginia, had been studying early childhood education at community college but never imagined she would complete a bachelor's degree. "Because of this unique program at the University of Hartford, I was able to transfer and complete a bachelor's degree, along with pursuing my real interest in becoming a Montessori teacher," she said. Mackenzie started a full-time teaching job in Virginia the day after graduation.
Mackenzie earned a Bachelor of Arts degree with a Montessori concentration through the University Studies program. The program is designed for students with previous college experience and can be completed full-time or part-time, with many courses available online. The program pairs UHart's curriculum with Association Montessori Internationale (AMI) teacher training, enabling students to earn an internationally-recognized AMI diploma in addition to a University of Hartford degree. Graduates are also eligible for Connecticut state teacher certification.
Mackenzie attended a Montessori school as a child, and one of her former teachers invited her back to work in the after-care program. That's when she realized she wanted to be a Montessori teacher. Her advice for other students considering the program is unequivocal. 
It's a great program. Don't hesitate to go for it, even if it seems scary to move far away to complete the Montessori courses. The online portion makes it accessible and flexible, and attending the in-person Montessori training is well worth the sacrifice."
Mackenzie Ford, '19
The University also offers a Bachelor of Science degree in early childhood or elementary education with a Montessori concentration. This program is designed for students starting college for the first time and is offered through the College of Education, Nursing and Health Professions. Both programs are made possible by a grant from James Walton's Wend Ventures to establish an undergraduate Montessori education program at UHart in partnership with the Montessori Training Center Northeast (MTCNE). The first students began the program in the fall of 2017, and several University Studies students will complete their degrees this summer.

The University has also offered master's degrees in education with a Montessori concentration for more than 10 years.