Find Your Path: New Academic Programs at UHart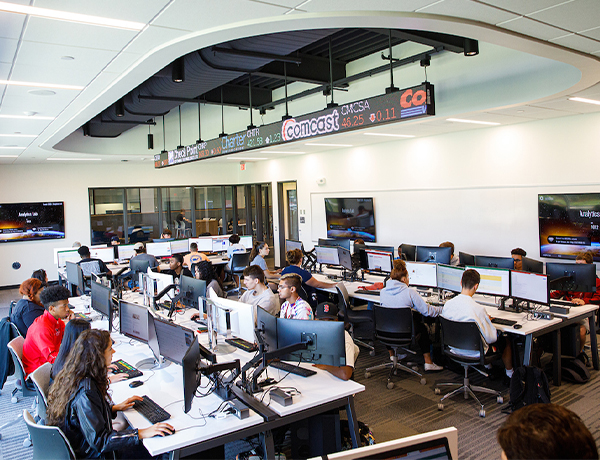 As student interests evolve and industry changes continue, the University of Hartford is responding with new programs that are poised to offer hands-on experiences and exciting employment prospects.
In 2022 alone, UHart has launched a Construction Management and Technology program, a Sports Management program, and a Doctor of Nursing Practice graduate degree. That's on top of refining the Human-Computer Interaction Design major, which was previously known as Multimedia Web Design and Development.
Sports Management is being offered through UHart's Barney School of Business as an undergraduate major, minor, and post-baccalaureate certificate at a time when the field is growing—data shows an expected 11 percent increase in job prospects between 2018 and 2028.
Students can expect to gain analytical, managerial, and hands-on skills, and vast knowledge of sports economic trends and risk mitigation, as well as the legal and financial frameworks and marketing specifics of the sports industry. Students can also tailor their academic experience through interdisciplinary elective courses, as well as experiential projects and internships.
Additionally, Barney is leverage existing relationships with partners such as ESPN and the Hartford Yard Goats. Graduates will be prepared for careers in sports marketing, athletics administration, sales, event operations, facility management, community relations, social media, and more.
The Construction Management and Technology program is building a foundation at the College of Engineering, Technology and Architecture to prepare a new generation for entry-level management positions in the construction industry. Students will have the opportunity to take classes in newly renovated spaces, as well as the Hursey Center, UHart's newest academic building that centers around interactive and hands-on learning.
The current construction industry labor shortage offers an optimistic career outlook for graduates, and ABET accreditation will soon be available so graduates can be industry-certified or even take the Professional Engineering Licensure exam to showcase their field expertise.

"It is designed with the full consultations of professionals looking forward to hiring our graduates because of UHart's great reputation in the industry," said CETA Dean Hisham Alnajjar. 

The Doctor of Nursing Practice (DNP) program aims to meet the growing need for nurse leaders in health-care organizations and nursing education, and is housed in the College of Education, Nursing and Health Professions. The fully online curriculum prepares nurses at the highest level of nursing education for leadership roles in hospitals and health systems, and to qualify for faculty positions at colleges and universities. 
"Modern healthcare systems have become increasingly complex, which creates a need for practitioners and leaders who not only have a deep understanding of clinical practice, but also a broader knowledge of other factors, such as finance and operations, to impact health outcomes," said Cesarina Thompson, dean of ENHP. 
According to the Bureau of Labor Statistics, the category of medical and health services managers, which includes nursing managers, is expected to grow 15% in Connecticut and 32% nationally from 2020 to 2030.

The interdisciplinary DNP curriculum includes a series of management courses with Barney, as well as practicum experiences that integrate classroom learning, promote innovative thinking as an advanced practitioner, and help students develop new solutions for clinical or system practice issues.

When it comes to Human-Computer Interaction Design at the College of Arts and Sciences, the program was renamed to better reflect a revised computer science and design curriculum that goes beyond mobile and web applications. It also offers a liberal arts core to offer students a creative mindset for forward-thinking design.