You are not alone at UHart. There are many ways to connect with peers through weekly wellness programming.
Visit the Wellness Wednesday table in GSU Hawk Lounge, connect 1-on-1 during Healthy Hawk Hangouts, and stay up-to-date on Student Health and Wellbeing events and activities.
Follow us Instagram @uhart_healthyhawks to stay up to date on programs and wellness tips.
Questions? Contact healthyhawks@hartford.edu.
Wellness Wednesday Programs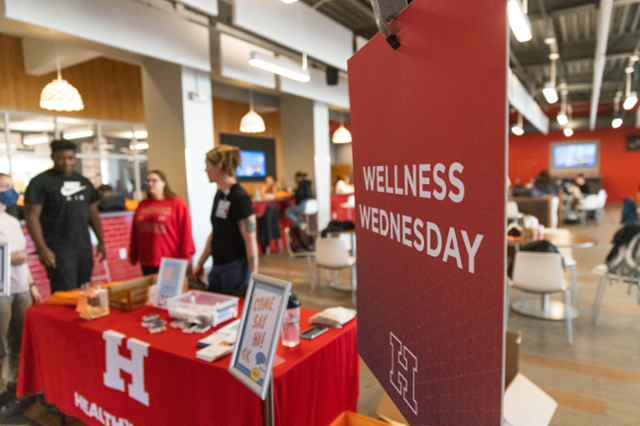 Every Wednesday throughout the academic year, the Office of Student Health and Wellbeing has a table stationed in GSU Hawk Lounge. Students have the opportunity to participate in wellness quizzes, pick up free health supplies, talk with nurses from Health Services, and complete quick stress relieving crafts. The goal of Wellness Wednesday is to remind students to take a moment to focus on their overall wellbeing.
Top 5 Healthy Hawks Habits
Explore Healthy Habits That Work For You:
Try new habits, and implement them into your college routine. Make time in your daily schedule for stress reduction, eating healthy, and physical activities.
Build Resiliency and Develop Coping Strategies:
Practice breathing exercises, mindfulness, and gratitude. Learn what your strengths are and appreciate them.
Discover Your Support Networks:
Get involved on campus! Meet and connect with other students and faculty/staff who share your interests and values. Allow them into your circle of support.
Get Help When You Need It:
Do not wait. If you or someone you know is in immediate harm or danger to themselves or others, please call the Public Safety Emergency Line, 860.768.7777. Public Safety is open 24 hours a day, 7 days a week.
Schedule an appointment with CAPS. CAPS is open Monday-Friday in GSU 313. Please call 860.768.4482 to make an appointment.
As another option, if you or someone you know is struggling emotionally or having a hard time, the National Suicide Prevention Lifeline is open 24 hours a day, 7 days a week. You can reach a representative at 800.273.8255.
Healthy Hawk Hangout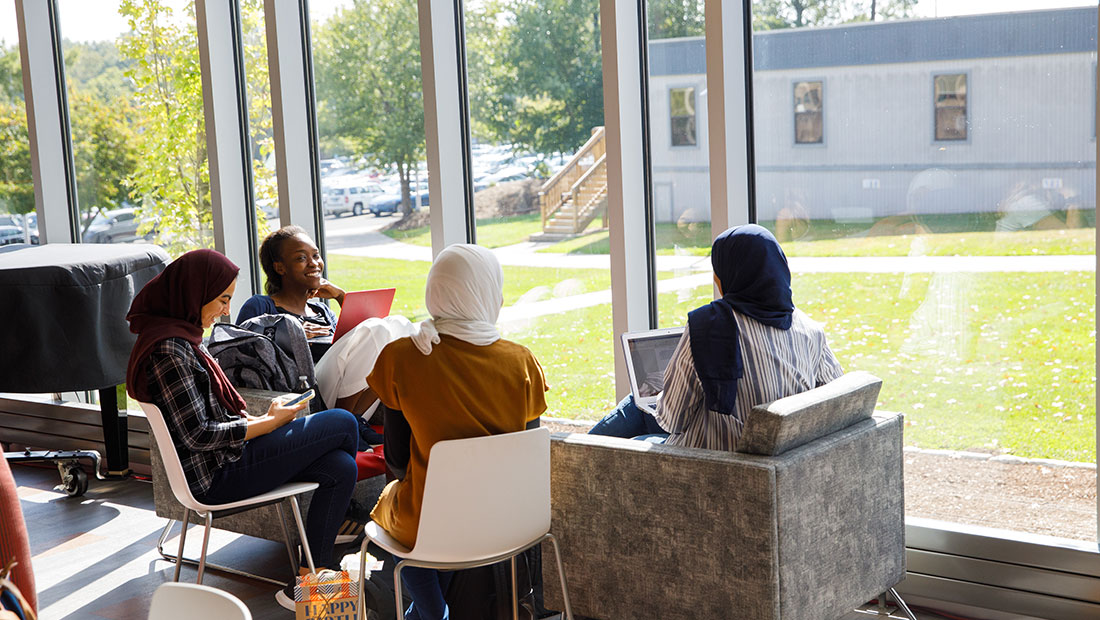 Join the Resident Wellness Ambassadors (RWAs) for Play-Doh, conversations, and coloring every Monday in GSU 215. This is a safe space for students to talk with peers and relieve stress.
Come hangout with the RWAs:
11 a.m. - 1 p.m. & 2 p.m. - 4 p.m.
Training, Courses, and Support
An interactive avatar simulation training to help prepare faculty and staff support students of concern. Kognito aims to increase knowledge and awareness about student mental health and suicide, educate about warning signs of psychological distress, including verbal and non-verbal, help students build resilience, and facilitate supportive conversations. Once an account is created, the online training takes about 20-45 minutes to complete. During the training, you may log in and out, as needed and the account will remain intact, once completed.
Get started today: Kognito Training or Hartford.kognito.com, and set up your free account with your hawkmail credentials
Before students start school at UHart, they must complete required online education on a range of important topics, including alcohol policies. Healthy Hawks Online Training is a two-and-a-half-hour curriculum about alcohol designed for students, including non-drinkers, light to moderate. In early August, new students will receive an email invite from healthyhawks@hartford.edu to partake in Healthy Hawks Online Training.
Hawk 2 Hawk (US 150) is a 1-credit class, led by Student Wellness Ambassadors, that focuses entirely on reducing stress and anxiety through journaling, mindfulness, art, music, movement, and more. This course was designed to help students learn ways to reduce stress, improve personal wellbeing and build resilience. If you're interested in practicing a new stress management technique each week while connecting with other students, consider adding it to your schedule when registering for classes.
Student leaders, who assist with the planning and facilitation of health and wellness activities and programs in residential spaces (including the Wellness RLC). RWAs also promote and assist with campus-wide health and wellness initiatives and programs and serve as facilitators for the Hawk-2-Hawk course.
Students who are part of the Wellness Community explore the many scopes of wellness. RLC students will engage peers in University wellness initiatives, support and encourage one another, improve their overall well-being, and promote healthy lifestyles on and off campus. Meetings are held weekly throughout the fall semester in a 50-minute seminar to discuss projects, participate in activities, and coordinate campus health initiatives.
Student Health & Well-being Staff
Jennifer Siegal
Director, Student Health & Wellbeing; Adjunct Professor of Psychology
View Full Profile