Learn more about the latest student accomplishments, successful alumni, and our innovative faculty in the College of Arts and Sciences! 

For more news about the University of Hartford, click here.
Featured News
New BS in Data Science Program Launched
Offered through the Department of Mathematics, the new in-demand data science major will build upon the minor in data science that the University began offering in 2019. The data science program provides rigorous training in computational mathematics, statistical methods, as well as best practices in data visualization.   

The program offers a computer science/mathematics track that emphasizes theoretical coding and mathematical modeling skills, and a business track that focuses on applied analytical skills, enabling students to select the one that best meets their career goals. Students who earn a data science degree start careers as data engineers, data analysts, data architects, or business intelligence specialist to help businesses and organizations make informed decisions or solve complex problems.  


Philosophy Program Offers New Concentration in Social Justice
 
The BA in Philosophy program has a new concentration in Philosophy and Social Justice that draws on courses offered in the minors in Africana studies, environmental studies, as well as gender and sexuality studies. The curriculum synthesizes applied and theoretical frameworks for social justice. Students learn about the causes of inequality and injustice as well as how to apply moral and political philosophy to these issues. 
New Minor in Cybersecurity
The Department of Computing Sciences offering a new minor in cybersecurity that can be combined with existing majors in computer science, computer engineering (CETA), computer science and engineering, and multimedia web design and development. The importance of cybersecurity is growing as society becomes more reliant on technology and companies are charged with ensuring the security of their hardware, software, data, and networks.
Congratulations to Our A&S Award Recipients
Student Award Recipients
Juli Dajci '21, Politics & Government and Psychology, and Student Government Association president, is the recipient of the Belle K. Ribicoff Prize. It is awarded annually to an exemplary graduating senior who has demonstrated academic excellence, intellectual curiosity, originality of thought, and a commitment to extracurricular activities and community service. Read more.
Regents' Honors Awards
The Junior Regents Award is presented to juniors with the highest GPA
Camryn Butera '22, Biology
Emma Privitera '22, Politics & Government
Greta De Gasper '22, Psychology
The Senior Regents Award honors students with high academic achievement, and who have excelled in their research or creative projects and/or served the academic community.
Juli Dajci '21, Politics & Government, Psychology
Abigail Myers '21, Biochemistry
Graduate Regents' Awards
Sirette Vicenty – MA in Communication  

Mariam Beshara – PsyDin Clinical Psychology  
Solomon Elsner Award for a perfect 4.0 GPA for all four years:
Juli Dajci '21, Politics & Government, Psychology
Abigail Myers '21, Biochemistry
Brooke MacKinnon '21, Biology
Faculty Awards Recipients
•
Professor of English Benjamin Grossberg

 

is the 2021 recipient of the Humphrey R. Tonkin Award for Scholarly and/ Artistic Creativity.

 

Read more.

•
Professor of Communication Sundeep R. Muppidi

 

is the 2021 recipient of the Oscar and Shoshana Trachtenberg Award for Sustained Service to the University.

 

Read more.
Student Success Stories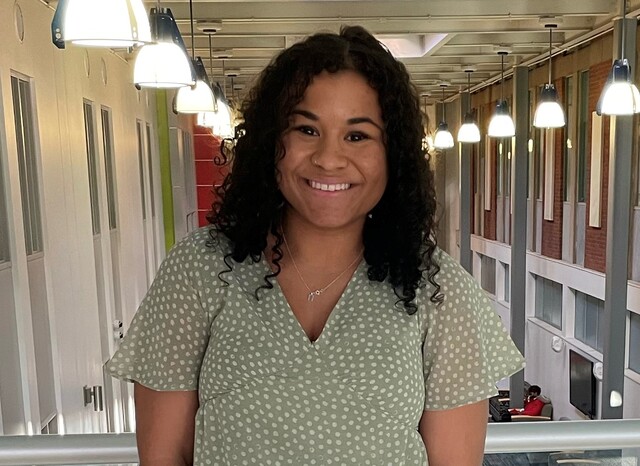 Internship Experience Prepared Skye Trotter '21 for Her Future
Skye Trotter '21 is working as a digital marketing associate in Annapolis, Maryland, where she is handling marketing and search engine optimization (SEO) work for corporate law firm Frost Law. A communication major with an emphasis in public relations and advertising, Skye also has a minor in politics and government.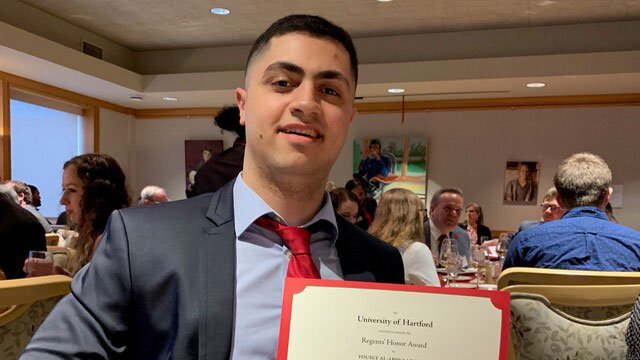 Yousuf Al-Abduladheem '21 to Pursue Doctor of Pharmacy Degree
Yousuf is heading to the University of Pittsburgh's School of Pharmacy. An international student from Jordan, he graduated from the College of Arts and Sciences with a Bachelor of Science in Biology and minor in Chemistry.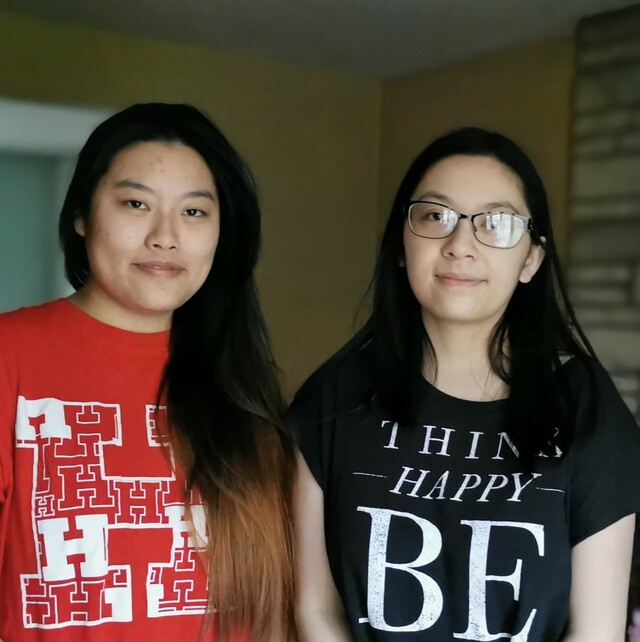 Computing Sciences Department Prepares Sisters for Internships at Electric Boat
Not only do sisters Amanda '21 (right) and Rachel Liang '22 share an interest in Computing Sciences, they both worked as software engineer interns for General Dynamics Electric Boat in Groton, Connecticut. Amanda is a computer science major interested in software design and development, while Rachel is a computer science and engineering major intent on a career in software development and the engineering side of electronics.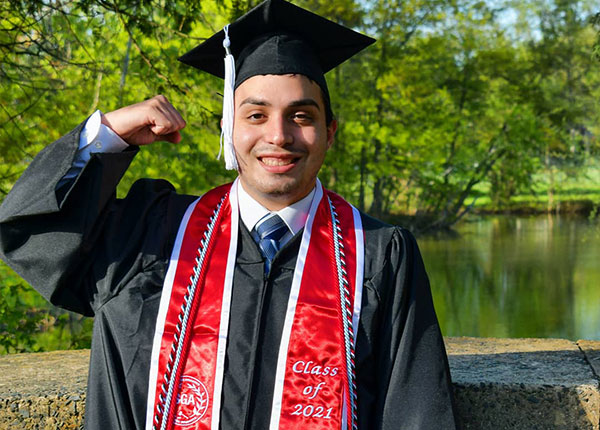 Campus Involvement Enriches John Lamaita's Experience and Leads to Career
John Lamaita '21 graduated with a degree in psychology from the College of Arts and Sciences and is headed to the University of Buffalo to pursue his master of education in higher education and student affairs. John was offered a graduate assistantship as an assistant residence hall director and says he took full advantage of getting involved on campus to develop his leadership skills.   
Watch Now
Associate Professor of Politics and Government Jilda Aliotta discusses the life and legacy of the late Supreme Court Justice Ruth Bader Ginsburg on NBC Connecticut.
More News from the College of Arts and Sciences
Yavana Ganesh '20 Lands Dream Job. Read more. 
Olaleye Onikuyide '20 Receives John G. Lee Award. Read more. 
Assistant Professor of Communication Adam Chiara's TV interview about advances in technology that make it difficult to spot fake social media videos appears nationwide. Watch the story here. 
Associate Professor Katharine Owens elected to serve as president-elect of the Association for Environmental Studies and Sciences (AESS) Board, Read more.
Assistant Professor Abe Hefter has found a way to create an on-air studio with a virtual master control room "virtually." Read more. 
Cinema Students Host Online Film Festival, "Films in Isolation." Learn more. 
Biology and Chemistry Departments Donate PPE. Read more.
Inside the Press Box: UHart's Hands-On Sports Beat Course. Read more.
History Alumna Applies Research and Analytical Skills to Newman's Own Fellowship. Read more. 
Bonaparte Triplets Ready for Their Future. Read more. 
From Lab to Operating Room, Summer Experience Leads to Ideal Career Choice. Read more. 
Assistant Professor Adam Chiara's Op-ed Looks at How Changes at Facebook Can Impact Business. Read more. 
Associate Professor Katharine Owens Named Director of The Governor M. Jodi Rell Center for Public Service. Read more. 
Cinema and Digital Media and Journalism Students Film International Documentaries. Read more. 
New Minor in Data Science. Read more. 
Professors and Students are Researching the Role of Recovery Residences in the Opioid Problem in Northwest Connecticut. Read more.
Share Your News
If you are a University of Hartford student, faculty/staff member, or alumni and have news to share, we'd like to know!

If you want to promote an event or make an announcement, please submit it to UNotes here.
If you have an idea, a story suggestion, or need help, please contact our marketing team here.