The Academic Services division of the College of Arts and Sciences is comprised of two full-time managers of Student Services and one associate dean, who are eager to work with all members of the University community (students, faculty, and staff). Our primary mission is to help students achieve their academic goals.
We support students from orientation to graduation. We coordinate community-building events and activities such as Liftoff, Orientation, and Commencement. We also continuously support students through academic advising, evaluation, and general questions and concerns.
For assistance with academic questions, your first point of contact is your faculty advisor. If your advisor is unable to answer your questions, you may also contact a staff member in the Arts and Sciences Dean's Office.
Changing or Adding a Major or Minor
To change/add a major, minor, or concentration, students must complete the change of curriculum status form. Students should first obtain their current major advisor's signature, acknowledging that the advisor is aware of the desired change(s). Students should then get the department chair's signature of the major/minor/concentration they desire to change to or add.  Once these signatures have been obtained, the form should be returned to the Dean's Office electronically or dropped off in person in Hillyer 204.
Degree Evaluation Request
Your academic advisor is your first contact to discuss your degree program and academic requirements. You should plan to meet with your advisor every semester to discuss your progress towards your degree and to make a plan for success. If you have specific questions about your degree progress, you can request an official degree evaluation from the Student Academic Services Office in the Dean's office.
Frequently Asked Questions
For information about your program, including the specific academic requirements for your degree, please reference the 
Undergraduate Catalog
to access Arts and Sciences programs. The bulletin is updated each academic year and lists each undergraduate major, including program guidelines, academic requirements, required courses and descriptions of those courses. Be sure to select your catalog, which is the year that you first joined the University of Hartford as a student. In addition, speak to your major advisor who can help you think about academic planning.
Each semester, advisors are given their advisees' personal identification numbers (PINs) for registration. PINs enable students to register online during the advanced registration period. Students are required to meet with their academic advisors to discuss course selection, potential minors/double majors, as well as other academic advice before obtaining their PIN from their advisor.
During times other than advanced registration, students will need to register with 
add/drop
 forms. After the first week of the semester, instructor and advisor signature is needed for permission to add a class. After the second week, Associate Dean (Dr. Natasha Segool, Hillyer 200) signature is also needed
Students may elect to take one class per semester on a pass/no pass basis. A course taken for pass/no pass will receive credit for the course if they pass it and no credit if they do not pass it, but the course will not impact a student's GPA. All classes taken for major or minor requirements must be taken for a letter grade, so if a student switches a major/minor requirement to pass/no pass, the course will need to be repeated for a letter grade. If a student is contemplating changing a course to pass/no pass, they should first consult the instructor. Each instructor may set the criteria in their syllabus as to what they consider a "pass." As an example, it is possible that one professor may require a C- or better for the grade of "pass" while another may require a D-. Students should be sure to weigh the advantages and disadvantages of grade changes to be sure they are making a well-informed decision.
Changing the grade option requires completion of the 
Registration/Add/Drop
 form and the advisor's signature. The last day to change the grading format (letter grade, pass/no pass, or audit) is the last day of the 10th week of the semester (
see Academic calendar
).  A student may also elect to "audit" a course; however, auditing a course confers no academic credit towards a degree.
Undergraduate matriculated students have the option to take one or more courses at alternate institution and transfer the credits to University of Hartford. Students need permission to take a course at another institution before the course is taken–otherwise the student may not receive the credits they are expecting. Permission ensures that the credit will be transferred back to University of Hartford and it will determine the course equivalency. Complete the 
Permit for Transfer Credit Form
 and obtain approval from your college evaluator. Upon completion of the course (minimum grade of "C-"), you must request that an official transcript be sent directly from the institution to the University of Hartford.
University of Hartford
Office of Admission
200 Bloomfield Ave
West Hartford, CT 06117
Reminder: The residence requirement is that the student completes at least their final 30 credits at the University of Hartford. This means that permits to transfer are generally not approved after a student has completed 90 credits at the University.
It is highly recommended that students maintain consistent knowledge of their grade point average (GPA) during each academic semester. You can refer to the Grading System posted in the course catalog that displays the grade points assigned to each grade.
The grade point average is obtained by multiplying academic credits by grade point value for the grade assigned in each course, and dividing the sum of the grade points by the total number of academic credits attempted. Note: Courses marked NG, W, P, NP, or I are not included in the calculation of the GPA. 


If an undergraduate student is currently passing a course and is unable to complete the course due to serious illness or events that makes it impossible to continue, the student may ask the professor for an "incomplete" in the course. An incomplete is specifically prohibited in the case of a student's heavy workload or the pressure of other responsibilities of the student. If the instructor agrees that an incomplete is warranted, the instructor and student will establish an agreement for the completion of incomplete coursework. This is done by completing an
incomplete contract
. If a student in residence does not complete the work and does not have a grade assigned by the last day of classes of the next regular semester, they will receive a mandatory grade of "F."
At the University of Hartford, students may repeat any course
one time
in an effort to improve their GPA. The
most recent grade
for a course (not the highest grade) is factored into the GPA and the previous grade is removed from the GPA calculation. Please note that repeating a course does not add to earned credits; a student can only earn credit for a course once. Repeating a course does not remove the previous grade from the transcript. The previous grade is simply excluded from the GPA calculation. If a student wants to repeat a course more than one time, they must provide a rationale for this exception through an appeal to the Committee on Academic Standing (see Dr. Natasha Segool, Hillyer 200).
Students are expected to make satisfactory academic progress (SAP) each semester that they are taking coursework at the University of Hartford. In the College of Arts and Sciences, students who are enrolled full-time are expected to earn 12 credits each semester and to maintain a minimum GPA. Part-time students have different earned credit expectations and are encouraged to speak to the Associate Dean if they have questions about SAP. GPA requirements are based on their EFT (sum of earned, transferred, and failed credits). The GPA minimum requirements are 1.7 (for 0-23 EFT), 1.8 (for 24-53 EFT), 1.9 (for 54-86 EFT), and 2.0 (for 87 or more EFT). If a student does not maintain satisfactory academic progress, the student will be placed on academic probation (with the exception of first semester freshmen, who receive a freshman warning letter).

A student can be placed on academic probation for not maintaining the minimum GPA or for not completing the minimum number of credits based on the number of semesters they have attended the university. Students on academic probation may lose financial aid and are encouraged to speak to the Office of Financial Aid to understand the implications of academic probation. If academic probation is not resolved by the end of the following semester, a student may be continued on probation, removed from degree candidacy, or academically dismissed. Removal from degree candidacy means that they will be allowed to take classes part-time at the University, but they will not be enrolled in a specific degree program. This will impact housing and existing financial aid packages.
A student may request to take a leave of absence and remain on active status for a maximum of two semesters. To do this, the student must register for active status by contacting the
College Evaluator.
If a student does not register and does not request active status, the student may need to apply for re-admission upon returning to the University.
A student who is withdrawing from the University should contact the
Center for Student Success
in writing or by email from a University of Hartford account and request to withdraw from all classes. A tuition refund, if applicable, for a student who is voluntarily withdrawing is based on the date of withdrawal. See the current
academic calendar
 for specifics.
Any student seeking to return to the University should contact the Admissions Office. Students who are reapplying to the University under the Fresh Start program need to re-apply through Admissions and prepare a letter of intent for the A&S Committee on Academic Standing.
The Office of the Registrar oversees requests for legal name changes, as well as preferred first name changes. Faculty, staff, and students can update a preferred first name, which will be visible in Self-Service, Compass, rosters, and Blackboard for faculty, staff, and students. Pronouns and gender identity will also be available for updating. Visit the 
Office of the Registrar 
section of the website for more information on how to process name changes
General Education Requirements for Arts and Sciences Students
In the College of Arts and Sciences you have the opportunity to explore the breadth of the liberal arts and to obtain a thorough knowledge of at least one area of specialization. An A&S degree is divided into three parts: the general education requirements; major requirements; and electives, for a total of 120 credits, or approximately 40 courses. See our course catalog for a complete listings of requirements.
In addition, all students in the College of Arts and Sciences are required to complete an internship, independent research project, or engage in an approved learning activity outside of assigned coursework. Learn more about our Learning Beyond the Classroom requirement.
 

Undecided About Your Major?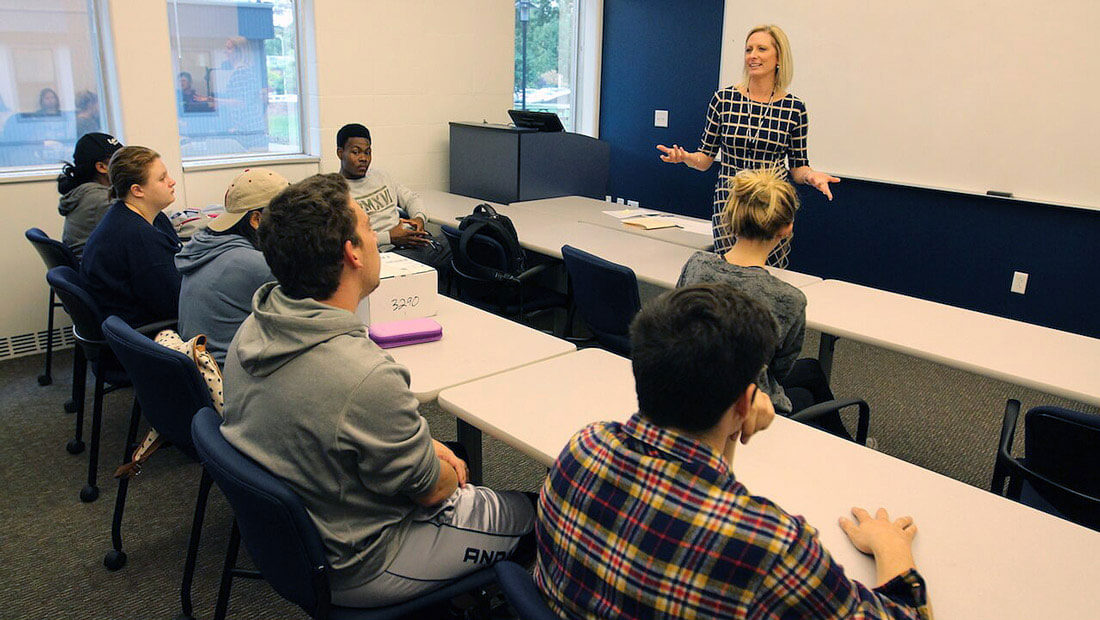 If you are not sure what you want to study at UHart, you are not alone! Many first-year students are undecided about their academic and career goals. Our advising team helps you identify your strengths, interests, and potential career paths.
As an A&S student, you take a First-Year Seminar that helps you meet the academic expectations of college, while exploring different subject areas.
Interested in:
Communication?
Mathematics?
Criminal Justice?
Computer Science?
You can sign up for courses in these areas! Along the way you can take self-assessments that helps you explore the majors and careers that are a good fit.
Once you select a major, you complete an internship or engage in an approved learning activity outside of assigned coursework to reinforce what is taught in the classroom. The skills and knowledge gained from these experiences helps you stand out when you enter the workforce.
Our Career Services office is a great place to learn about you major and career options.
Who We Are
Kelly McGeever
Assistant Dean of Student Persistence and Achievement; Program Director, Criminal Justice; Associate Professor
View Full Profile
Julie Sochacki
Associate Dean for Student Academic Services; Program Director, English-Secondary Education; Clinical/Applied Associate Professor of English
View Full Profile