College of Arts and Sciences
MA in Communication
The Master of Arts in Communication provides you with both a comprehensive overview of the field of communication and a specialization in areas such as media, integrated communication, and human communication. Our professors are respected experts in these areas and lead dynamic and exciting discussions about current issues and problems in communication.
About the Program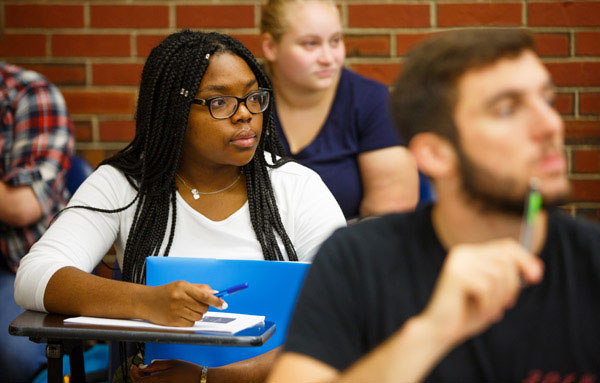 You learn social scientific, humanistic and critical approaches to the study of communication applied to media, organizations, relationships, and society. For aspiring and practicing communication professionals, you will find courses in integrated corporate communication, multimedia and media production, and more. Our course offerings blend information and methods, theory and application to give you both knowledge and skills.
Degree Requirements  
To apply to our Master's program in communication, you must have a baccalaureate degree in Communication or a related discipline from an accredited institution with a 2.80 GPA or above.
The Master of Arts in Communication requires 33 credit hours of approved graduate courses. You and your faculty advisor will design a  program of study based on your experiences and plans.
For more information, and to see a complete list of degree requirements, visit the Course Catalog
Completion of the following two courses:
Seminar in Communication (taken as early as possible in the degree program). 

A survey of the major approaches to communication inquiry, including in-depth study of the major assumptions that underlie contemporary research in communication. The focus of the course is on the range and scope of communication research.

Communication Research Methods. An introduction to communication research design and methods. This course introduces students to various qualitative and quantitative approaches to the study of communication.

 
Completion of 21-24 credits of electives.  You may choose from regular courses or special topics courses in media, integrated communication, and human communication offered by the School of Communication; and/or you may choose to take up to 12 credits in other graduate programs at the University.
Requirements are based on the option selected.
Thesis Option for a total of 6 credits
Working with a faculty Thesis Director, you will engage existing literature and theory around a topic, develop a methodology, and collect, analyze, and report findings from your data. 
Thesis Preparation (3 cr.)
Thesis (3 cr.)
Non-Thesis Option for a total of 6 credits
The graduate project is a research project that you develop in negotiation with the professor of a content area class you are enrolled in. It is in addition to the original course requirements, and allows you to take a deeper dive into the course content.
Completion of one additional graduate course (3 cr.)
Completion of a Graduate Project (3 cr.) 
For more information, and to see a complete list of requirements, visit the Course Catalog.
Master of Arts in Communication thesis track students will:
Demonstrate mastery of the subject matter pertaining to at least one area of expertise in communication.
Complete an original research project on a topic in the discipline of communication.
Demonstrate an understanding of the relationship of theory to research by articulating a theoretical approach in the study.
Implement an appropriate research methodology and analytical tools to examine the study topic.
Be able to report and describe the results of the study in a clear and organized manner in writing.
Be able to orally report and describe the results of the study in a clear and organized manner and answer questions about the project.
Master of Arts in Communication non-thesis track students will:
Demonstrate mastery of the subject matter pertaining to at least one area of expertise in communication.
Demonstrate knowledge of a research methodology that is related to the student's area of specialization.
Be able to describe, analyze, and apply theories relevant to the area of expertise.
Be able to articulate the subject matter in the area of expertise clearly and in an organized manner both orally and in writing.
Be able to report and describe the results of a study in a clear and organized manner in writing.
Teaching Intern Positions and Careers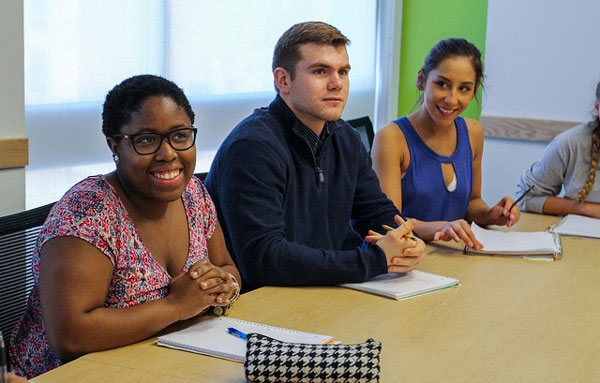 Outstanding students (3.25 GPA or higher) may apply to be a Teaching Intern (TI), which is our version of a graduate teaching assistant. As a TI, you are matched with a faculty member, who teaches the assigned introductory undergraduate communication class, while you attend all class sessions and provides teaching support. Teaching support may include classroom management such as taking attendance, and facilitating in class exercises, in addition to grading papers and providing feedback to students. TIs receive full tuition, along with a $6,800 stipend, which is paid throughout the year.
Your total time commitment as a TI is about 20 hours each week. TI's are required to staff 10 hours of office hours to answer student questions, and they serve as research assistants for School of Communication faculty when needed. Research hours do not exceed a few hours a week, and can often be completed during office hours.  
TI applications are due April 15 for positions opening in the following fall semester; October 15 for positions opening in the following spring semester. The number of open positions depends on how many current TI's are graduating, and when. There may be some semesters when there are no position openings. Email Associate Professor and Program Director Kristin Comeforo for information on availability and how to apply.
Applications must include:
Personal Statement/Letter of Intent explaining how and why you are qualified to be a TI and what you will bring to the position;
One letter of Recommendation that speaks directly to your appropriateness for the position;
Academic transcript
A written response to EACH of the following essay questions:

Tell us about a teacher who has particularly impacted you as a student. Describe their teaching style, and explain why/how it made such an impact. How does this teacher inspire you towards the TI position, and what will you emulate as a Teaching Intern? (500 words)
Imagine you are given the opportunity to teach a class session in a Communications course. What topic would you choose to teach, and why? Describe a bit how you would teach it, or what your lesson might look like/include. (500 words)

GRE scores are welcome, but OPTIONAL

Email Associate Professor and Program Director Kristin Comeforo by the application deadline (April 15 for positions opening in the fall, October 15 for positions opening in the spring). 
*Please note that assistantships, fellowships, or other support a student receives as a result of his or her enrollment may have an impact on Federal Stafford Loan eligibility. 
*TI's are responsible for paying student fees each semester, as billed by the Bursar's office. These fees may include (but may not be limited to) registration fees, technology fees, parking fees, etc. They may amount to approximately $250 per semester, or approximately $555 per year. (This is an estimate as fees may change).
Program Application Requirements
The following are requirements to apply to the MA in Communication program: 
A non-refundable application fee of $50
Official transcripts for all collegiate level coursework
A letter of intent as specified in the online application
Two letters of recommendation
If you are an international student, please read about additional requirements
For more information about requirements and deadlines, visit 
Graduate Admission
.
Career Options
Our program prepares you for further graduate study and also employment in government, nonprofit organizations, businesses and educational institutions. Many of our graduates are employed in human resources and corporate communications. Others are in a range of communication professions, including advertising, public relations, television, radio and web-design firms.
Tuition


Summer 2023, fall 2023 and spring 2024 tuition rates for the Communication, MA program are below:

| | Per Credit Rate |
| --- | --- |
| Communication, MA | $726.00 |
Research Opportunities
Making presentations on your research at academic conferences is a great way for you to develop as a professional. Employers and academics view conference presentations as a sign of accomplishment and demonstrate that you are doing more than merely completing courses in a program. Because of this, we encourage graduate students to present their research and projects at professional communication conferences and at two research colloquia here on campus that take place annually in the spring: the School of Communication Graduate Student Awards and Research Symposium and the University-wide Graduate Research/Creativity Symposium. These events provide special forums specifically for graduate student research.
Graduate student presentations at these events are drawn from research papers and special projects they have been working on in classes, theses or independent studies, providing them with a broader audience for their work and an opportunity to get useful feedback from others that attend these events.
Grant Opportunities for Conference Travel
The University provides some financial assistance to attend professional conferences for graduate students who have submissions accepted for presentation. The Dean of Graduate Studies has established a program for supporting graduate student travel to conferences through which students can apply for a grant of up to $500 for expenses. Expenses associated with the purchase of presentation materials, travel to the meeting, registration fees, and room charges may be reimbursed up to $500. There are no deadlines for this award. These grants are available throughout the year, but the application must be made at least one month before the conference.
Professional Organizations  
Graduate students are encouraged to submit their work for presentation to several major professional organizations in the field of communication, including:
Most of these professional organizations have annual conferences where participants present their work on topics in various fields within the discipline of communication, such as media, organizational communication, and public relations. These conferences welcome participation by graduate students who conduct research in these areas. Visit these websites for information about the process for submitting papers, panel proposals, poster presentations, or other forms of presentations. Each organization has regular deadlines for submissions to its annual conference.
Kyle Conti
MA in Communication, BA in Cinema, and Digital Media and Journalism, '20, M'22
Kyle has accepted a position with NFL Films to work on HBO's Hard Knocks, a reality sports documentary series that focuses on a new NFL team each year. Kyle had also been offered a job editing game footage for Major League Baseball, but decided on the NFL Films position because it lined up with what he wants to focus on, which is documentary filmmaking. 
His latest documentary, Gay Spirit Radio: Not Afraid to be Different—The Keith Brown Story, will be shown as the centerpiece of Connecticut's LGBTQ Film Festival in June. The documentary details the history of the Gay Spirit Radio program on UHart's WWUH radio, which has been hosted Keith Brown for more than 40 years.
My professors made me feel comfortable taking risks since I'm in a unique field of editing and production. The small class sizes made me feel like I had a connection with every professor. The projects and papers were meaningful, and I feel well prepared to enter the workforce."
Bryson Owens
Communication, '18, M'20
Bryson Owens is working remotely as an associate video producer for Newsweek providing video content for its social media channels and website including the presidential and vice-presidential debates, the Amy Coney Barrett supreme court confirmation hearings, as well as election night coverage.
Owens says he became interested in politics at a very young age, and as an undergraduate and graduate student, he took multiple politics and government courses that directly and indirectly intertwined with media communications. He says his final graduate project, College During COVID, co-produced with Bianca Ross '18, M'20, was cited as the reason his resume stood out from the others.
"What triggered my thirst to pursue all facets in the communication and media industry was taking courses such as: Gender/Sex in Pop Culture, Intro to Television Production, Political Advertising and Women in the Media, and Media Process and Effects. Communication Professors Karen Schermerhorn, Jack Banks, Sundeep Muppidi, and Kristin Comeforo really pushed me to think critically, be unbiased in my analysis, and see the world and how the media has the power to change it."