College of Education, Nursing and Health Professions
RN to BSN Program
Take the next step in your nursing career with our online RN-BSN program.
If you're a registered nurse who plans to complete your Bachelor of Science in Nursing (BSN), our online program is designed for you. It provides licensed registered nurses with the opportunity to complete a BSN degree on a part-time basis in a supportive, caring atmosphere.
Quick Facts
Fully online
Fall, Spring, or Summer start
7-week courses
Questions? Contact us at nursing@hartford.edu
About the Program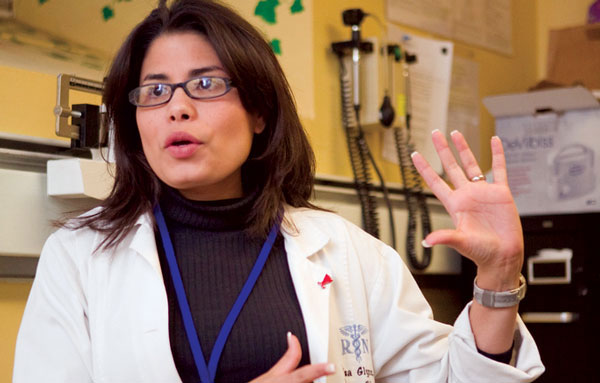 The RN to BSN program was the first completion program in Connecticut. Our focus has consistently been oriented to adult learners, facilitating advanced study for nurses while addressing your unique needs as individuals and professionals.
Our online program is designed to be completed in 18 months part-time to accommodate the schedules of working nurses. You will take two 7-week courses each semester, so that the entire program can be completed in as little as 6 semesters, including summer courses.
As a transfer student from an associate degree program in nursing, an unlimited number of your associate degree credits will transfer to our RN to BSN program. You will be expected to complete your final 30 credits at the University of Hartford.
We recognize that you bring much more than prior college credits to our program. Your clinical experience and that of your classmates is a vital component of our curriculum and valued by our nursing faculty. Our faculty encourage you to bring patient-care issues to the classroom and classroom learning to the workplace.
Curriculum
A minimum of 120 credits is required to earn the Bachelor of Science in Nursing (BSN). This includes 30 credits of professional nursing courses and 90 credits of general education requirements. See the course catalog for full requirements.
The RN-BSN curriculum focuses on transforming the student's perspective from passive to active learner, acute care to community focus, medical to nursing model, disease to health promotion orientation, job to career, and individualism to a community of scholarly caring. 
I recommend this program to all of my colleagues who only have their associate degree. It took me 10 years to go back after getting my ADN and I'm so glad I did. I thought I was done learning, but the University of Hartford really opened my eyes to what else was out there, so much that I may even change the direction of my career towards public health. I tell everyone to continue their education and they won't regret that they did."
Joshua Toms '22, RN to BSN Student
Admission Process
Steps to apply to the RN to BSN program:
Go to the UHart Application Portal (Do not use the Common Application)


Create an account, click "Start New Application" and select your intended start term.
Choose Part-Time/Adult Undergraduate Application under the application type question.
Choose Online under "Preferred Learning Format."
Choose Nursing-RN to BSN (BSN) under "Program of Study"
Request official transcripts from all colleges you have attended, and ask the issuing institution to send official transcripts to:
Office of Admissions
University of Hartford
200 Bloomfield Avenue
West Hartford, CT 06117
Note: If you have transcripts under prior name(s), ask the college or university sending the transcript to include your current name. If you believe a transcript may have been sent to our Office of Admission without your current name on it, please notify the transfer counselor in the Office of Admission. This will facilitate the processing of your application. Email admission@hartford.edu or call 860.768.4296.
Formal admission to RN to BSN Program: When the admissions process is complete, you will receive a mailing from the University of Hartford with your new student ID number. In a separate mailing you will receive an "equivalency report" listing the names of general education courses that have transferred into the University of Hartford. Save your equivalency report.
Download your University of Hartford transcript: Once you are admitted and have a student ID number, log on to Self-Service to access your University of Hartford transcript. Check the transcript to make sure that all of the courses you have taken transferred in and that there are no courses missing. If there are missing courses, contact the University of Hartford Office of Admission at admission@hartford.edu, 860.768.4296.
As a transfer student from an associate degree program in nursing, an unlimited number of your associate degree courses will transfer to our RN to BSN program. You will be expected to complete your final 30 credits at the University of Hartford.
The University of Hartford participates in a dual admission agreement with the six Connecticut community colleges that offer the Associate in Science Degree in Nursing (ADN). This agreement guarantees enrollment in the RN to BSN program at the University of Hartford pending completion of the associate's degree, a minimum 2.7 GPA, licensure as a registered nurse in the state of Connecticut, and a few additional conditions.  See the Connecticut Community College link below for details.
You will submit your application and documentation to our Office of Admission. Applications may be submitted at any time during the year, and you may begin study in the fall, spring, or summer semester.
Office of Admission
860.768.4296
admission@hartford.edu

The University of Hartford participates in a dual admission agreement with the six Connecticut community colleges that offer the Associate in Science Degree in Nursing (ADN). The agreement facilitates continuing education for ADN graduates. If you are a graduate or current student in nursing at one of the nursing programs listed below, please review the dual admission agreement and the course comparison chart on page 5 of the agreement. The course comparison chart helps students match courses from the community college that fulfill University of Hartford requirements.
Capital Community College — Hartford
Gateway Community College — New Haven
Naugatuck Valley Community College — Waterbury
Northwestern Connecticut Community College — Winsted
Norwalk Community College — Norwalk
Three Rivers Community College — Norwich
Frequently Asked Questions
Yes, nearly all of the nurses in our program are working full time while taking one or two classes each semester and summer toward the completion of their BSN degree. Our program is designed to accommodate working nurses and their various schedules.
We recognize that as adult learners, nurses have many competing responsibilities. Periodically, our students need to stop out for a semester or two to deal with a family situation or ease the pressure when assuming a new professional role. You are permitted to take up to a year-and-a-half leave from your program of study without having to reapply to the program.
You may continue to take courses toward your BSN at your local community college. Many nurses prefer to do this, as it is often convenient to home or work. You will be expected to complete your final 30 credits at the University of Hartford. During that period of enrollment, you will not be permitted to take courses at another institution or to earn credits through CLEP, DANTES, etc. If you intend to complete prerequisite or general education courses at another institution, it is important that you do this early on in your program of study and obtain the approval of your faculty advisor.
It will depend upon the number of general education courses you will need to complete your BSN. If you have completed all your general education requirements and prerequisite courses, you will complete the program over 18 months attending part-time. 
Additional Information
Mission
To prepare future nurse leaders and advance the level of education of registered nurses while fostering their professional and personal development.
 
Philosophy
We emphasize quality teaching complemented by scholarly and creative expression, clinical expertise, dedicated community service, and service to the profession of nursing. We are dedicated to the preparation of persons who enrich the nursing profession by responding flexibly and creatively to both professional and societal issues.
We believe that students seek relevant learning experiences grounded in experiential learning and have a clear commitment to the identity of the professional nurse. We believe that the best learning takes place in an environment of support where students are respected, and their life experiences honored. The ideal education setting is a learning community that allows student to realize their full potential as reflective, active, and life-long learners. Because we are committed to the idea that active involvement is essential to effective learning, we foster an environment of interaction among students and faculty. We expect all students to participate in their own learning and to facilitate the learning of others by participating in collaborative learning groups and partnerships, respecting each other's opinions and questions, and by establishing a commitment to learning and critical and creative thinking. We strive to create a global community of scholarly caring.
Synthesize concepts from the arts, humanities, and the natural and social sciences in professional nursing practice
Apply leadership and organizational skills to provide quality care for diverse populations across a variety of settings
Evaluate and apply evidence-based research and practice to improve patient outcomes
Demonstrate skills in using information technology, information systems, and communication tools that support safe nursing practice
Articulate the influence of policy, finance, and regulatory environments on healthcare outcomes and nursing practice
Manage knowledge and support decision making using best practices in interprofessional communication and collaboration to optimize patient outcomes
Apply principles of health promotion and disease prevention with populations in diverse settings
Demonstrate professional values that are indicative of moral, ethical, and legal conduct
Demonstrate evolving competence in clinical reasoning and professional nursing practice across the healthcare continuum
Tuition for the RN-BSN program is charged at $450 per credit.
Please see the Tuition and Fees page for additional information on fees and expenses. Note that tuition and fees are subject to change.

Financial Aid Office
Phone: 860.768.4296
finaid@hartford.edu
Accreditation

The baccalaureate and master's degree programs in nursing at the University of Hartford College of Education, Nursing and Health Professions are accredited by the Commission on Collegiate Nursing Education (CCNE), 655 K Street NW, Suite 750, Washington, DC 20001; telephone: 202.887.6791. Information about the accreditation process is available at CCNE.