Summer 2023—Registration Now Open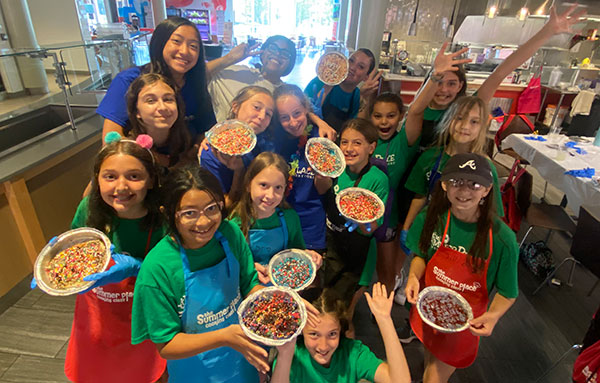 At Summer Place, your days will be anything but boring. Each will be jam-packed with excitement and adventure as you expand your world with all kinds of exciting sports and enrichment courses. Really, where else can you design and play your own computer games, launch a rocket, cook up recipes from around the globe, host a talk show, shoot a bullseye in archery, and cool off in the pool, all at one camp? Only at Summer Place! Every day, you'll bounce from one activity to the next—each chosen by you! Come join our experienced and caring team of teachers, coaches, and counselors, and discover why . . . There's no place like Summer Place!
The Summer Place Day
Learning and fun go hand-in-hand at Summer Place, where campers follow a daily schedule that includes a half-day of enrichment courses and a half-day of sports or recreational activities. First- through fourth-graders participate in two enrichment classes in the morning and three recreational activities in the afternoon (first- and second-grade campers opting for early dismissal take only two recreational activities in the afternoon). Fifth- through ninth-graders follow a schedule of three recreational activities in the morning and two enrichment courses in the afternoon. The entire camp gathers together for opening and closing activities and at lunch. At all times throughout the day, children are under the careful direction and supervision of the Summer Place staff.
Please refer to the worksheet for the appropriate session when completing the registration form.
Special note: The grade-level designation for each course refers to the grade the child will enter in the fall of 2023.