Exploratory/Undecided Student Finds Economics Program Complements His Strengths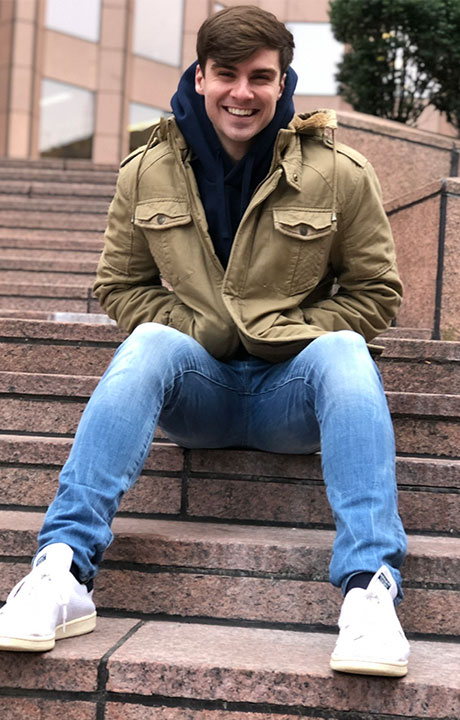 Nate Carr '21 came to the University of Hartford with a diverse skill set that made it a daunting task for him to narrow down his passions and interests into a single area of study. He decided his best option was to enter UHart as an exploratory—or undecided—student to help him experience a variety of courses that complement his strengths, and help him pinpoint the area that would best fit his talents.
 
Because he expressed an interest in UHart's economics program, Nate's academic advisor suggested he meet with Associate Professor of Economics Jane Horvath. "Professor Horvath said an economics degree would offer me plenty of open doors after graduation," he said. "I wanted a major that gave me the opportunity to make an impact, so after the meeting, I walked away learning more about myself and what I wanted out of college."
 
Now a declared economics major who is pursuing minors in complexity, data science, and environmental studies, Nate says that even as a junior, he still meets with Professor Horvath because of her "wisdom and professionalism" on a regular basis. He encourages incoming and current students to take advantage of campus resources that are in place to support them and their overall educational experience.
           
In addition to his courses, Nate uses extracurricular activities as a way to fulfill his many passions. His leadership skills are strengthened by being a Red Cap Orientation leader, secretary of senate for UHart's Student Government Association, and a student ambassador in the College of Arts and Sciences. Nate can also be found working in the Career Studio and at the Office of Institutional Advancement.
This summer Nate is planning to work at Travelers as a Product Management Development Program intern. "I'm grateful for this opportunity to learn, grow, and contribute to a company and team with great things planned."
 
Nate says he realized that deciding on a major didn't limit his college experience. Rather, it motivated him to reach out to the campus community and learn that he can still be involved in his interests while pursuing his education.