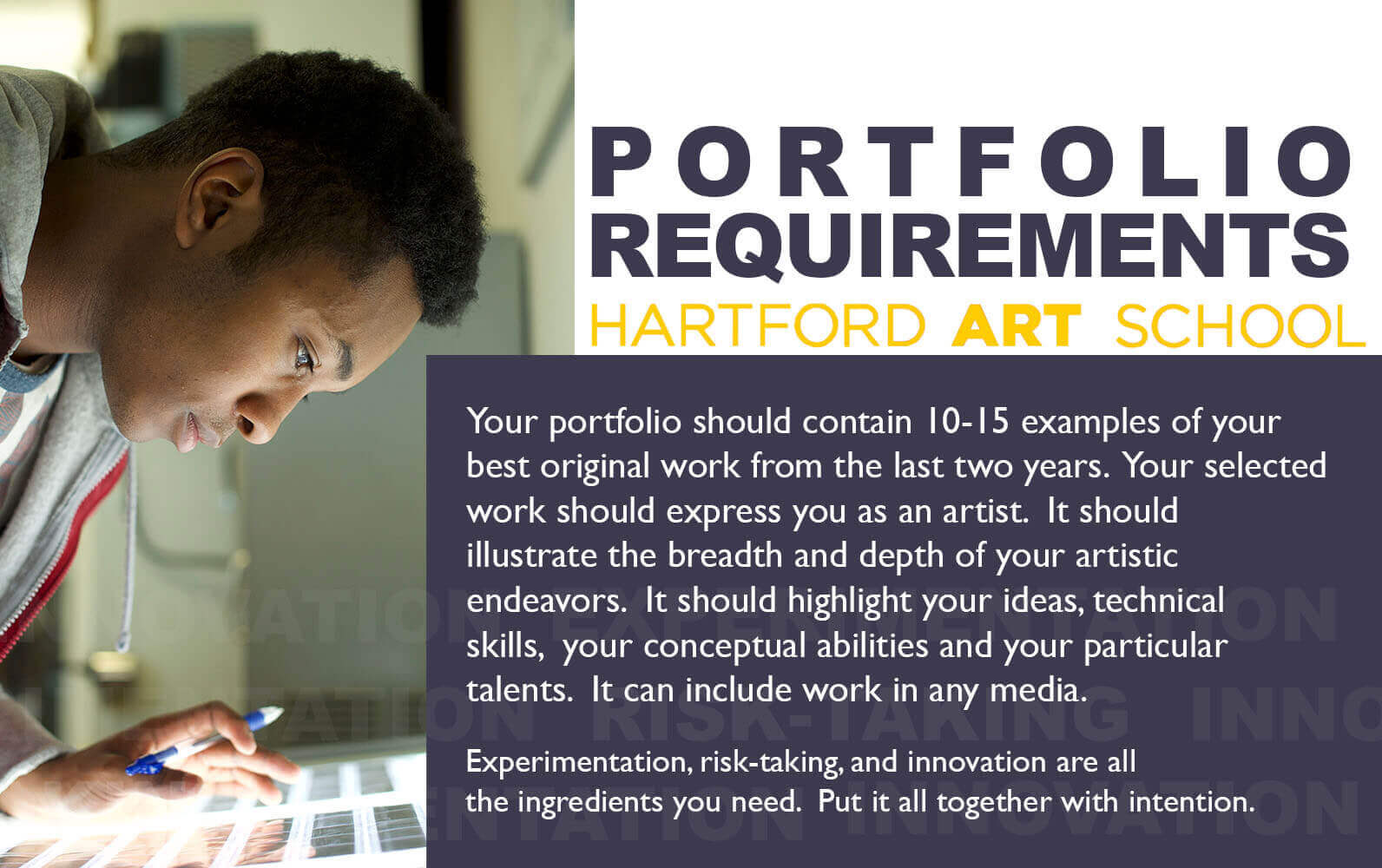 HAS now offers virtual portfolio reviews by appointment.
Our in-person portfolio reviews are offered virtually. Students can sign up and submit their work online via SlideRoom. See the the details and requirements below. 
We can't wait to see your artwork!
2023 Virtual Portfolio Reviews
WHAT TO INCLUDE
Your portfolio should contain:
10–20 examples of your best original work from the last two years
Should express who you are as an artist
Should illustrate the breadth and depth of your artistic endeavors,  highlight your ideas, technical skills, conceptual abilities, and your particular talents
Your portfolio can include work in any media
Don't yet have a complete portfolio or still have some works in progress? We'd love to see where you're at and give you feedback to continue building your portfolio. Remember, this is all about you. We look forward to reviewing your portfolio.

If you are applying to our Art History program, a portfolio is not required.
WHAT TO EXPECT
Prepare to have your video on and be ready to talk about your selected works. You will have a one-on-one meeting with one of our eager admission coordinators from the Hartford Art School admission office. 
HOW TO SCHEDULE AND SUBMIT YOUR PORTFOLIO
You can register by selecting an open date (those in green) on our calendar and a time that you'd like to meet. If you don't see a date or time that works for you, please email us at artschool@hartford.edu and we will do our best to accommodate you. 

If you are a senior with a complete portfolio, click here to upload your work on SlideRoom. This is the platform in which we will be able to review your work.

If you are a senior with a portfolio that is in-progress or a junior, please email us jpegs or a link to your Google drive with clear images of your work. 
National Portfolio Day
Portfolios may be shown to representatives from the Hartford Art School on National Portfolio Days, sponsored by the National Portfolio Day Association (NPDA), as well as on regional portfolio days, or at your high school during our visit. For information on future National Portfolio Days click here.  Below will be the dates and locations that HAS will be reviewing portfolios in your area:
2023-24 National Portfolio Day dates
Oct 7  New York City National Portfolio Day
Oct 28  Boston National Portfolio Day
Oct 29  Hartford Art School National Portfolio Day
Oct 29  Philadelphia National Portfolio Day
Dec 3  Virtual National Portfolio Day
Jan 7  Virtual National Portfolio Day
May 4  Virtual National Portfolio Day
Hartford Art School Programs
The Hartford Art School offers undergraduate programs in the fine and applied arts leading to the degree of Bachelor of Fine Arts. The nine studio majors that lead to the Bachelor of Fine Arts (BFA) are as follows: Ceramics, Illustration, Integrated Media Arts, Painting & Drawing, Photography, Printmaking, Sculpture, and Visual Communication Design. We also offer a Bachelor of Arts (BA) in Art History.
Questions? Contact us!
Hartford Art School
University of Hartford
200 Bloomfield Avenue
West Hartford, CT 06117
Phone: 860.768.4158
Email: artschool@hartford.edu