College of Arts and Sciences
MS in Neuroscience
UHart's Masters of Science in Neuroscience is interdisciplinary in nature and provides  experiences at the interface of biology, psychology, and other natural sciences.
The program is designed to meet the needs of both full-time and part- time non-traditional students with most courses and laboratories offered in the evenings.
The neuroscience program is unique because it provides research opportunities in clinical neuroscience, neurophysiology, and basic neuroscience. If you are interested in doing a thesis project, you will be directed toward instructors/laboratories that work in the area of your interest. We have had great success placing students in laboratories in the biology and psychology departments here at the University of Hartford, as well as in top-notch laboratories at the UCONN Health Center and Trinity College.
Upon completion of our neuroscience graduate program, our students have gone on to high quality doctoral programs in Connecticut and in Florida, Minnesota, and Pennsylvania. In addition, our alumni are working in careers ranging from laboratory research technicians to sales representatives for pharmaceutical companies. Many of our students are practicing professionals in physical therapy, occupational therapy, and other areas who just want to advance their education and improve the quality of their care for others.
Program Admission Suspended
The University of Hartford has suspended admission to the MS in Neuroscience program. Students who are currently enrolled in the program will have the opportunity to complete their degree.
About the Major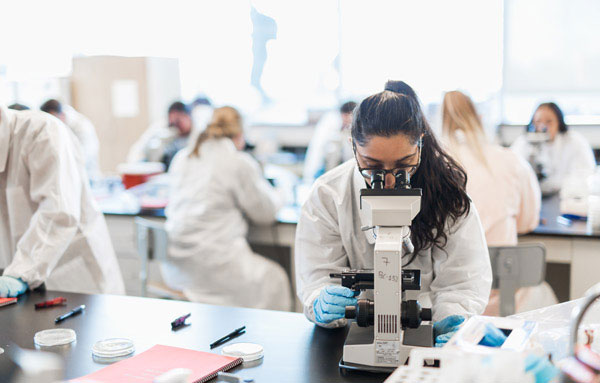 The program offers two options:
The thesis option is designed for you if you want to pursue research positions or plan to pursue doctoral training in the future. It requires a 6 credit thesis.
Select the non-thesis option if you are interested in advancement in non-research positions. It requires a 3 credit research paper where a particular applied/clinical interest is integrated with coursework.
Degree Requirements  
The Masters of Science in Neuroscience requires you to complete 31 or 34 credits, depending on the option you select.  
For more information, and to see a complete list of degree requirements, visit the Course Catalog.
Among the core courses are:
Neuropharmacology
Introduction to Neuroanatomy
Principles of Neurophysiology
Neuroethics
Introduction to Clinical Neurology
Program Admission Requirements
Thesis Option
Ideal preparation includes a bachelor's degree in science, such as biology or chemistry, with additional optional undergraduate preparation in biology, chemistry, physics, and mathematics. An otherwise well-qualified student whose background does not contain all the requisite courses may be considered. All applicants must take either the GRE or, in lieu of this, submit results from the Dental Admissions Test (DAT) or Medical College Admissions Test (MCAT).
This option requires baccalaureate work in some area of the life or health sciences, such as biology, psychology, physical therapy, occupational therapy, or nursing, with additional optional undergraduate preparation in chemistry and biology. An otherwise well-qualified student whose background does not contain all the courses may be considered. For health professionals, results of licensing and/or certification examinations may be submitted in lieu of GRE scores.
Master of Science in Neuroscience students will display:
Mastery of the anatomy of the nervous systems at the cellular and systems level including distribution of sensory and motor control areas both in the brain and spinal cord.
Mastery of the molecular and cellular biology of the nervous system.
Mastery of the relationship between the physiology of the nervous system and behavior under healthy and pathological situations.
The ability to recognize, research and follow the timely issues in neuroscience as it relates to science, industry, health care and the general public.
Mastery of oral and written communication of original scholarly biological research.
A working knowledge of the scientific method including hypothesis formation, experimental design, statistical analysis of research data and interpretation. (For thesis students only.)
Where Are Our Graduates?
Here are some examples of what some of our recent graduates are doing:
Product Marketing Manager, Dilon Technologies

PhD Student, Brown University

Research Associate, Department of Neurology, Massachusetts General Hospital

Research Associate, Department of Cardiology, University of Iowa

Research Scientist, Achillion Pharmaceuticals, New Haven, Connecticut

Research Scientist, Broad Institute of MIT and Harvard

PhD Student, University of Connecticut
Our Faculty
The faculty within the Department of Biology are focused on student success and encourage students to work them on a variety of research projects. View the biology program faculty 
Paola Sacchetti, PhD
Associate Professor, Director of Neuroscience,
Professor Sacchetti's research focuses on neuroscience and molecular biology and how transcription factors control expression of genes important for the development of brain cells.
In particular I focus on dopamine neurons, the cells that die in patients affected by Parkinson's disease. My aim is to understand how normal cells develop and which genes and regulators are essential for the life of dopamine cells in order to better understand what happens during the disease state.
Tuition
Tuition


Summer 2022, fall 2022 and spring 2023 tuition rates for the Neuroscience, MS program are below:

| | Per Credit Rate |
| --- | --- |
| Neuroscience, MS | $715.00 |