Spend the summer exploring music teaching and learning at The Hartt School. Our core classes and workshops are the ideal opportunity to immerse yourself in the study of music education. 
Hartt Summerterm encourages an environment where the exchange of ideas and concepts with fellow peers and colleagues is both welcomed and nourished. The learning environment is one that fosters personal and professional growth, as well as an esprit de corps and camaraderie that establish new and cherished relationships among students.
Our Programs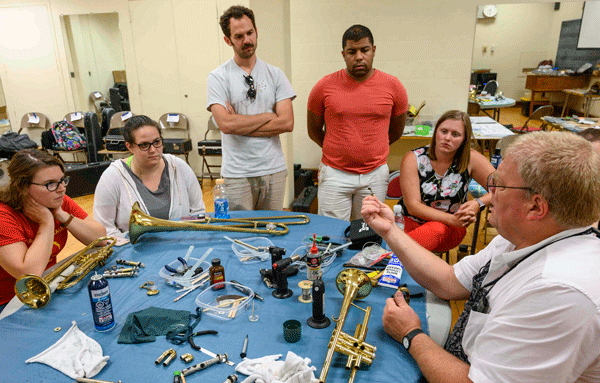 Hartt Summerterm has provided more than 30 years of outstanding core courses and workshops for educators, artists, and students. We offer graduate-level weeklong workshops,  three- and six-week core curriculum classes for graduate students, and other continuing education offerings. Many students complete our Summers-Only Master of Music Education program by combining core courses and workshops. 
Additionally, graduate students can select one of two summers-only master's degree tracks, pedagogy or Kodály.  The Hartt Kodaly Certification Program remains a leading program in the United States. Our OAKE-Endorsed certification program is lead by award winning faculty, and centered around a Feierabend curriculum.
Our Faculty
Hartt's nationally recognized faculty provide students with diverse and innovative curricula. Our reputation as a prominent summer place of study is well earned, as no other offers such a comprehensive music education program taught by nationally and internationally acclaimed educators.
Registration Information
Students interested in a full master's program must apply separately through our Admissions page.  For more information and details on how to apply for the full master's program, you can learn more here.  
For all others, early registration is encouraged. There is a nonrefundable registration fee per semester (summer) and a technology fee for all participants. You may register online*. Students who wish to register on campus may do so at the Center for Student Success office, located in the Gengras Student Union.
All workshops at the University of Hartford are available for graduate credit.

Workshops may be taken for a letter grade or with a Pass/No Pass grading status (must take for a letter grade to count toward a University of Hartford master's degree).

Participants wishing to transfer a workshop toward a degree at another institution should check with that institution regarding the Pass/No Pass option.
*Our registration site will be open at a later date, in early 2024.  Please check back for more details.  If you are interested in our Hartt Summerterm offerings, you can also fill out this form and be notified when registration is open.