Weekly CETA updates to help propel your future.
Week of March 20, 2023
Happy First Day of Spring!
Biomedical Engineering Society to visit Okay Industries on March 24 at 11 AM.

Blood Drive: March 29 from 8:30 AM - 4:30 PM in GSU 335/339.


Cap and gown ordering events in GSU this week - Learn more.



REMINDER:

We have a food pantry in the CETA Student Lounge (UT212) for students in need of food security support.
Important Info
Career & Professional Development
If you would like a resume and/or cover letter review, please 
complete

this form

for feedback from the Office of Career and Professional Development.
(Engineering Resume Example)
Important Dates & Notices

Spring Recess: March 11
Classes End: May 2
---
COVID-19 Protocols
For the most recent COVID-19 procedures and protocols, please visit Healthy Hawks.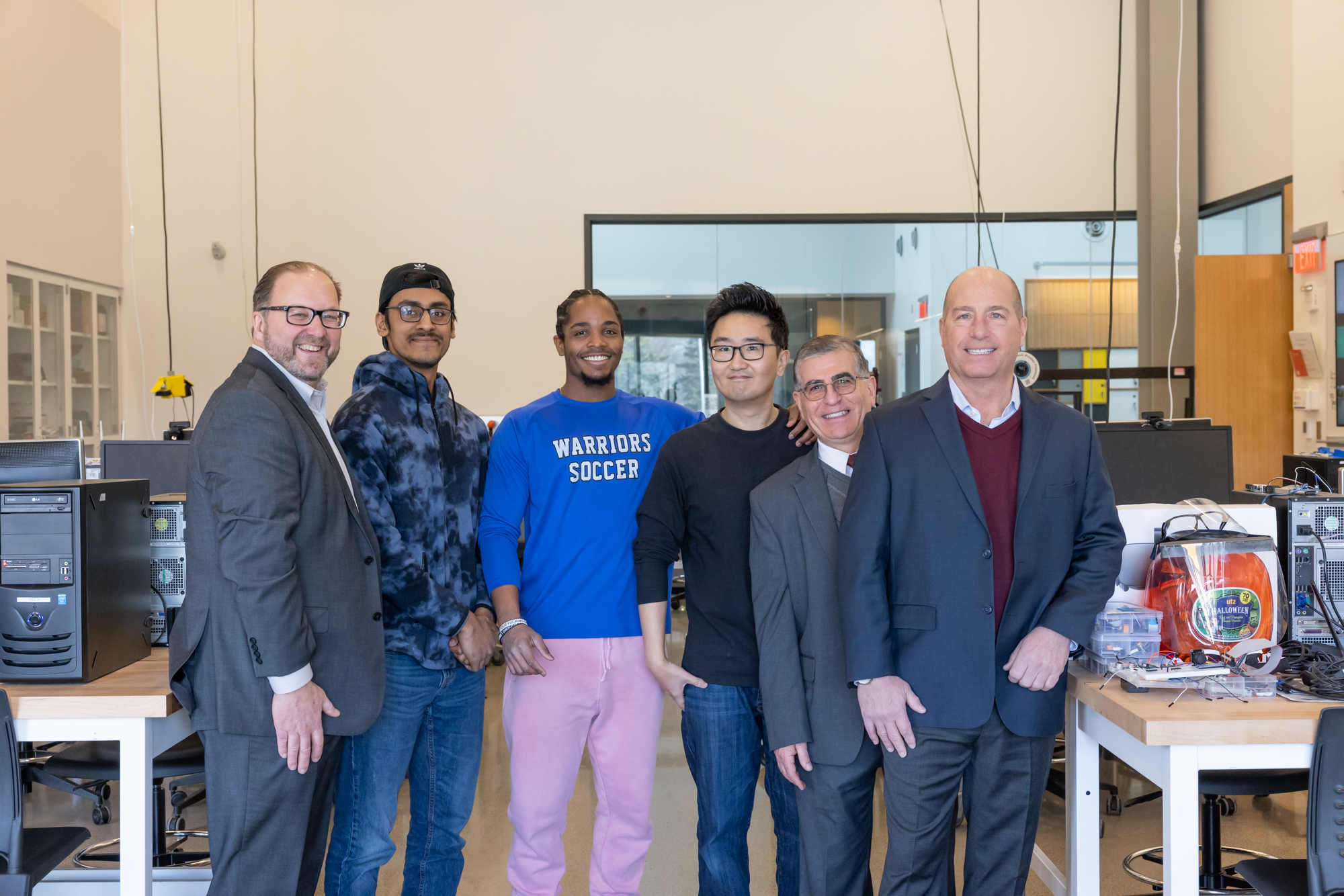 Connecticut's Chief Manufacturing Officer Visits UHart
Paul Lavoie, Connecticut's chief manufacturing officer, visited the University of Hartford on March 6, to learn more about academic programs and how they are evolving alongside industry needs.
Lavoie toured UHart's College of Engineering, Technology, and Architecture with Dean Hisham Alnajjar, State Representative Emmanuel Sanchez, and Joseph Sylvestro '90, senior vice president of aftermarket and sustainment global operations at Pratt and Whitney. He also met with Barney School of Business Dean Stephen Mulready.
CETA Info
General Club and Student Involvement Updates
UHart Hub Index - All UHart Clubs & Organizations
Virtual Suggestions Box
Submit suggestions to the Student Government Association through the Virtual Suggestions Box. Use this to submit questions, comments, and concerns regarding student life on campus.
---
Student Life Calendar
Access this calendar to learn more about events going on throughout the semester.
---
Student Government Association (SGA)
Use this form to submit an event or inquiry to Hawk Talk, SGA's weekly email.
(Please note: Submissions must be sent by the Friday night before the Hawk Talk is sent out). 
---
CETA-Specific Clubs & Organizations
Acoustical Society of America (ASA)
American Institute of Architecture Students (AIAS)
American Society of Civil Engineers (ASCE)
American Society of Heating, Refrigerating, and Air-Conditioning Engineers (ASHRAE)
American Society of Mechanical Engineers (ASME)
Audio Engineering Society (AES)
Biomedical Engineering Society (BMES)
Construction Institute Student Organization (CISO)
Cybersecurity Club
Engineers Without Borders (EWB)
Formula Society of Automotive Engineers (FSAE) / Hartford Racing
Institute of Electrical and Electronics Engineers (IEEE)
Institute of Transportation Engineers (ITE)
National Society of Black Engineers (NSBE)
National Organization of Minority Architects (NOMAS)
oSTEM Club for LGBTQ+ People in STEM
ReTail Records
Society of Women Engineers (SWE)
UHart Public Speaking Club
Women in Architecture and Design (WAD)
Allison Poulin/Dean's Office
cetamain@hartford.edu
For: Contact for CETA's dean's office, if you are unsure if your question falls into any of the other e-mail categories, needing an authorized signature from a dean, and reporting concerns/issues of CETA spaces.
Colleen Krusiewicz/Dean's Office
cetadean@hartford.edu
For: Contact for CETA's dean's office, if you are unsure if your question falls into any of the other e-mail categories, if you need an authorized signature from a dean, and reporting concerns/issues of CETA spaces.
Laurie Granstrand
cetagrad@hartford.edu
For: Graduate admission and recruitment, graduate admission events, 4+1 program, and transfer credits.
Susan Aliberti
cstudents@hartford.edu
For: Undergraduate student services assistance, including: seniors' degree evaluations; verification of student academic status; policies, procedures & requirements; student/parent questions; and status verifications.
Undergraduate Information
cetainfo@hartford.edu
For: Undergraduate admission and recruitment, prospective students and families, CETA-specific tours, and admission events.
Eve Betterini
cetacomm@hartford.edu
For: Marketing, website, UNotes, social media, news story, student/alumni/faculty spotlights, CETA Bulletin Bytes announcements, and fliers for TV displays.
Maggie Hayes
cetainfo@hartford.edu
For: CETA College Admission Manager, admission, recruitment, and application processing.
Tracy Ryan
trryan@hartford.edu
For: CETA office services coordination.
Mark Juliano
cetapc@hartford.edu
For: Assistance needed with CETA computers (UT/Dana/Architecture).
Jonathan Shapiro
cetams@hartford.edu
For: Questions regarding machine shop.