Barney School of Business
Master of Science in Business Analytics
Today's business leaders need to be data-driven and know how to interpret and analyze big data when approaching important strategic decisions.
Why Earn your MSBA at the Barney School?
Leading-edge curriculum combining large-scale data management and programming in R and Python, with business communication knowledge.
Shorter and flexible schedule. Each course is only 7 weeks long, so you can finish a 10-course degree in less than two years. Both online and on-campus options are available.
Networking opportunities with your classmates from industry leaders such as Cigna, CVS, The Hartford, Raytheon Technologies and many more. 
STEM designation. Increase your employability as an international student.

The MSBA students can apply for Post-Completion OPT (12 months) and then, if eligible, apply for an extension (24 months). 

The majority of our students receive a GRE/GMAT waiver. Find out how easy it is to request a waiver.
Quick Facts
30 credits (10 courses)
100% Online or On-Campus
Part-Time or Full-Time
Fall, Spring and Summer start
Rolling Admission
Capstone Project
STEM Designated
Register for Virtual Info Sessions
Questions? Email us!  
About the Program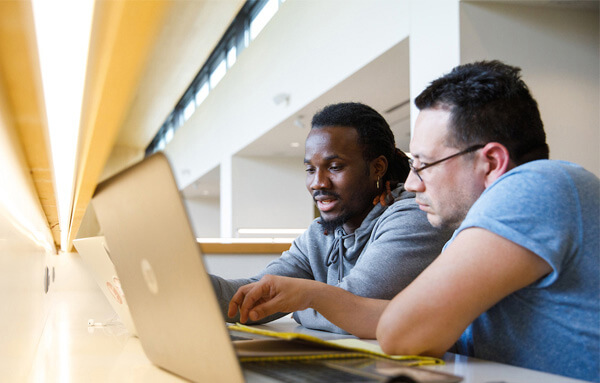 Our Master of Science in Business Analytics program provides you an in-depth understanding of the fundamentals of analytics. You will obtain the strong critical thinking, quantitative, analytical, visualization, and presentation skills necessary to successfully advance your career in the growing "big data" business culture in any organization.
Take your classes online or on campus, and set a schedule that works for you. In just 18 months, the Barney School's Master of Business Analytics program prepares you for a successful career. Our graduates learn to manage large data sets from different business divisions, which are essential in the decision-making processes of top management teams. In turn, these businesses can gain comparative advantages over their competitors in the marketplace. 
Who Should Apply:
Recent college graduates with business, STEM, and social science backgrounds who plan to pursue a career in the business analytics and data science fields.
Working professionals seeking career advancement or change in a data-driven working environment.
Engineers, computer programmers, finance, and insurance professionals.
AACSB Accreditation
Barney School of Business has been a leader in advanced business education for more than 60 years. Our long-standing history and success in the area of business education have made us among the 5 percent of business schools in the world that are AACSB accredited.
World-Class Faculty
Our faculty are academic and industry leaders in their field. Their experiences help to bring concepts and materials to life through case studies and innovative approaches. Through these experiences, our students graduate equipped with the business analytics skills that help to drive major growth and facilitate better decisions in the ever-changing world of business.
Curriculum
The Barney School of Business Master of Science in Business Analytics is a 30-credit hour program consisting of seven core courses, two electives, and an application-based, broadly integrated, capstone course.
Here are some course examples with technical tools and languages you will learn:
QNT 755 - Coding-programing for Data Science: Python and Pandas;
QNT 745 - Data Visualization: Tableau, R and ggplot2;
QNT 750 - Strategic Business Analytics: Python and/or R;
QNT 795 - Business Analytics Capstone: Python or R
For the remaining courses, faculty use Excel, SAS and/or R. 
For more information, and to see a complete list of degree requirements, visit the Course Catalog.
Introduction and Applications to Analytics in Business
Managerial Statistics and Analytics
Introduction to Business Analytics and Data Management
Predictive Modeling
Business Data Mining
Strategic Business Analytics
Data Visualization
For more information, and to see a complete list of degree requirements, visit the Course Catalog.
Business Forecasting
Coding and Programming
Marketing Analytics
Risk Management
Project Risk Management
For more information, and to see a complete list of degree requirements, visit the Course Catalog.
Career Outlook
Business analytics is one of the fastest-growing, in-demand fields today and our students are getting a great return on their investment. Machine learning, big data, and data science skills are identified as the most challenging to recruit for. Because many of these positions require advanced degrees, our students are finding the opportunity for career growth once they complete the program.
Emily Bigwood MSBA '22
Business Intelligence Developer, The Hartford
"I had heard great things about the program from friends and coworkers in the Hartford area. What especially appealed to me about the MSBA program was the focus on not only learning technical skills but applying them to solve problems."
Admission Overview
The Barney School adheres to the standards of the Association to Advance Collegiate Schools of Business—International (AACSB) and reserves admission to students showing high promise of success in postgraduate business study.
An awarded Bachelor's degree is a requirement to enter the graduate programs.
To assess the potential of candidates for admission, we look carefully at scores on the GMAT and performance in undergraduate and other graduate programs, as well as the motivation of the applicant as evidenced in the letter of intent. 
Additional Admission Information
Complete an

 

on-line application

 

and pay a $50 application fee
Send official transcripts of all previous baccalaureate and graduate study
Take and send the results of the Graduate Management Admission Test (GMAT)
Write a letter of intent and résumé
GMAT/GRE waivers are based on sufficient academic and/or professional history. To be considered for eligibility, you must meet one of the following criteria: 
Undergraduate GPA of 3.0+ 
3 years of substantial work experience 
Previous completion of a Masters or higher-level degree 
If you believe you meet at least one of the criteria for a GMAT/GRE waiver, we encourage you to select this option within the online application. We will verify your eligibility during the review of your completed application. An interview may be requested for further verification of eligibility. 
STEM Designated Program
This is a STEM Designated program, providing interdisciplinary technical and mathematical skills, as well as the business acumen needed to help solve complex business issues and help navigate the future of business.

STEM (science, technology, engineering, and math) Designated Degree Programs are designated by the U.S. Department of Homeland Security. By enrolling in and finishing a STEM Designated program, international students may be able to stay in the United States for an extended period of time to meet the demand for workers with these skills.
Tuition


Summer 2023, fall 2023 and spring 2024 tuition rates for the Business Analytics program are below:

| | Per Credit Rate |
| --- | --- |
| Master in Science in Business Analytics Fall 2023 and Spring 2024 | $838.00 |
| Master in Science in Business Analytics Summer 2023 | $838.00 |