Barney School of Business
Master of Business Administration
Take charge of your changing business world with a Master of Business Administration (MBA) from the University of Hartford Barney School of Business—listed as one of the nation's "Best Business Schools" by the Princeton Review.
Get an MBA Your Way!
12 in-depth courses for a fast-track MBA
24 months for an accelerated degree
Ranked #3 in Hartford Business Journal for the largest MBA program in Connecticut
AACSB-accredited program both full-time and part-time
The majority of our students receive a GRE/GMAT waiver. Find out how easy it is to request a waiver.
Register for Virtual Info Sessions!
Quick Facts
36 credits (12 courses)
100% online or on-campus
Part-time or full-time options available
Fall, spring and summer start
Rolling admission
Questions? Email us!
About the Program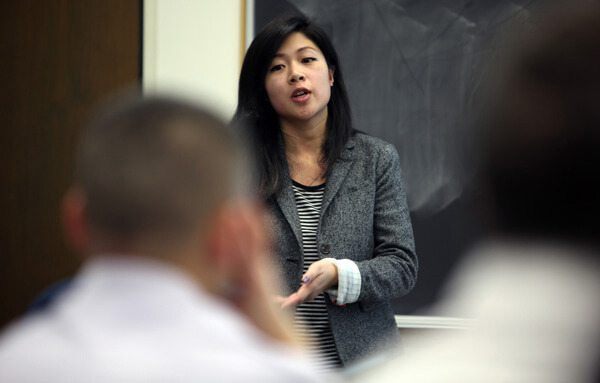 Become exposed to the knowledge, skills, and values you need to become a successful manager. These concepts and skills apply to all types of organizations, including large corporations, family-owned businesses, and not-for-profit organizations.
Career Outlook
An MBA puts you on the path to success and opens up countless opportunities. You may decide to work in finance, management consulting, technology, marketing, logistics, or many other fields. Candidates for the master's degree typically include those pursuing a management career, as well as those at mid-career, and those contemplating a change from a technical or specialized field into a general management role.
Curriculum Requirements
Take 12 classes for a total of 36 credits. You will study several different disciplines in our nine required courses ranging from economics to accounting to management. The remaining three classes will be electives in your chosen concentration or area of interest.
Concentrations show mastery in a topical area and add a level of skill to your resume. The concentration will appear on your transcript after completion of the MBA program.
For more information, and to see a complete list of degree requirements, visit the Course Catalog.
MBA Concentrations
Every organization uses an accounting system for internal control and performance measurement as well as required financial and tax reporting. If you don't have an accounting background, use the concentration to gain a basic foundation of the profession. If you have a degree in accounting, advance your understanding with higher level classes.
Today's technology produces huge volumes of data. Businesses everywhere are focusing on how to properly organize, evaluate, and use data to solve problems and identify opportunities that give their organization a competitive advantage.
People from many walks of life are interested in starting their own businesses. This concentration prepares individuals to develop strategies, and implement marketing and management functions associated with owning and operating a successful business. Students learn consulting models, how to analyze organizational and ethics issues, and develop diagnostic skills.
Financial skills are in demand in all industries. Acquire knowledge about how firms make financial decisions and how these decisions affect individual organizations and society as a whole.
This concentration addresses evolving issues in the health system by examining the structure of the U.S. healthcare system, including health care professionals, the delivery and financing of healthcare, and related health care products. The Barney School offers one course per term (Fall, Spring and Summer) to complete this concentration.
In today's fast-paced environment, it is common to find working professionals traveling abroad representing their institutions in global affairs. This concentration allows for those who want to broaden their horizon to delve deeper in functional areas, visit foreign countries, or create a unique experience by mastering an international topic as an independent study. The Barney School offers one course per term (Fall, Spring and Summer) to complete this concentration.
This is an ideal concentration for anyone with a desire to manage people and processes. It provides flexibility in selecting courses that emphasize general skills for enhancing the performance of people and organizations.
Use the knowledge and skills gained from an MBA concentration in marketing to help firms create value for customers. Both national and international aspects of developing, distributing, pricing, and promoting brands, products, and services are covered.
With the increasing demand to combine different strategies and tools for implementing projects, there is a great need for skilled project managers to improve the performance of their business or organization. A Project Management concentration is a viable and sought-after program for both business and engineering graduate students.
The Master of Business Administration with a concentration in Project Management provides students with the requisite skills, knowledge, and insights to manage projects in a variety of business applications and industries. Content includes the technical, behavioral, and strategic awareness competencies of project management to provide a holistic approach to project management.
Content is aligned with the knowledge areas of the Project Management Institute's Project Management Body of Knowledge (PMBOK®) Guide and Agile Practice Guide. Content and case studies focus on: the alignment of projects to the innovation goals and business strategy of the organization, applying appropriate project management tools based on the situational context, especially in agile, iterative, adaptive and hybrid project environments, and managing domestic and global stakeholders and teams. Students are provided with skills and content to advance in the project management profession in a variety of industries.
Students with this MBA concentration are also prepared for and encouraged to obtain the Certified Associate in Project Management (CAPM) certification offered by the Project Management Institute (PMI). This will also provide students with a pathway to achieving the highly valued Project Management Professional (PMP) certification offered by PMI.
Students can earn a Project Management MBA concentration by completing MGT605* - Organizational Leadership, MGT607* – Managing Organizational Processes, MGT 700 - Innovation and Project Management, MGT 609* - Global Strategic Management and any two from the following list of elective courses: FIN 740/ INS 740 - Project Risk Management, ME 519 - Six Sigma Principles and Applications, MGT 701 - Managerial Skills and Agile Management, and MGT 719 - Advanced Project Management. The Barney School offers one elective course per term (Fall, Spring and Summer) to complete this concentration. 
Note: *  - this is a prerequisite course for a required course in the concentration. 
** - this is a capstone course required to complete all MBA concentrations.
We live in the insurance capital of America. With our variety of insurance courses, providing a micro-credential (concentration) in Risk Management and Insurance allows further selection of concentrations within our MBA program. The concentration includes a selection of INS courses of which 3 may be selected for this concentration.
Supply Chain Management has become an essential skill set for managing global enterprises involving the strategic flow of goods and services for meeting customers' needs. Robust supply chains allow businesses to deliver the most cost competitive and timely solutions to their customers by leveraging the capabilities of the multi-dimensional linkages in their supply chain. The Barney School offers one course per term (Fall, Spring and Summer) to complete this concentration.
Philip's 
quest for knowledge and self-introspection paved his way to the Barney School of Business. According to Philip, the pandemic in a way allowed him to reflect on how short life is and helped him realize his goals. A strong curriculum and amazing internship opportunities, as well as its reputation as an AACSB-accredited institution, were significant factors for Philip in choosing the Barney School's program. Read more.
"I highly recommend enrolling in the Barney School of Business's MBA program if you are a full-time working professional looking for the flexibility of completing courses at your own pace, having the opportunity to learn online, and studying at a top-notch school with AACSB accreditation."
Admission Overview
We adhere to the standards of the Association to Advance Collegiate Schools of Business—International (AACSB) and reserve admission to students showing high promise of success in postgraduate business study. We consider, GMAT scores, performance in undergraduate and other graduate programs, and motivation of the applicant as evidenced in the letter of intent.
An awarded Bachelor's degree is a requirement to enter the graduate programs.
*Prior to beginning the degree program, students are expected to have a working knowledge of computers and be able to use word processing software and spreadsheets. 
Additional Admission Information
Complete an on-line application and pay a $50 application fee
Send official transcripts of all previous baccalaureate and graduate study
Take and send the results of the Graduate Management Admission Test (GMAT)
Write a letter of intent and résumé.
Apply here to the MBA Program.
If you are currently an employee at CIGNA and applying through your employer, apply here.
GMAT/GRE waivers are based on sufficient academic and/or professional history. To be considered for eligibility, you must meet one of the following criteria: 
Undergraduate GPA of 3.0+ 
3 years of substantial work experience 
Previous completion of a Masters or higher-level degree 


If you believe you meet at least one of the criteria for a GMAT/GRE waiver, we encourage you to select this option within the online application. We will verify your eligibility during the review of your completed application. An interview may be requested for further verification of eligibility. 
Tuition


Summer 2023, fall 2023 and spring 2024 tuition rates for the MBA program are below:

| | Per Credit Rate |
| --- | --- |
| Business Administration Fall 2023 and Spring 2024 | $838.00 |
| Business Administration Summer 2023 | $838.00 |