UHart Welcomes More Than 1,260 First-Year Students This Fall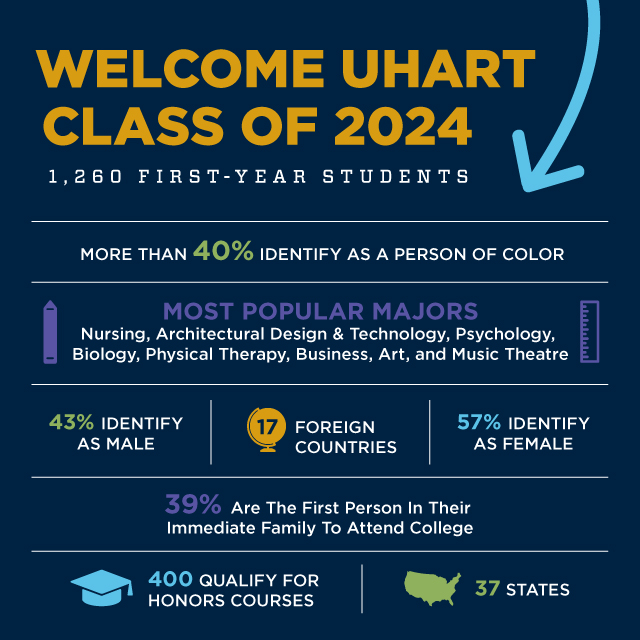 The University of Hartford welcomes the Class of 2024, an impressive and diverse group of first-year students who are unlike any other class before them. These future CEOs, engineers, nurses, doctors, lawyers, educators, artists, and more have already proven themselves to be a resilient group who have overcome the unexpected challenges of 2020 and completed their high school careers strong.
"It is my pleasure to welcome you to this incredible community of learners," said University of Hartford President Gregory Woodward in his message to the first-year students. "You are about to begin an exciting adventure and I'm so proud of you and I'm so happy you are here. We have seven schools and colleges from which you can learn everything under the sun and there is so much to do and experience."
The members of the Class of 2024 are from 37 states including the District of Columbia, as well as 17 foreign countries. Of the 1,260 students, including 100 transfer students, the largest number are from Connecticut (more than 500), while other leading states are New York, Massachusetts, New Jersey, and Pennsylvania. UHart's international students are coming to the University from countries as close as Canada, and as far away as China, Ghana, New Zealand, and South Africa. 
"We can't wait for the students to begin their academic journey with us," said Dean of Admission Rick Zeiser. Since our Accepted Student Days were held virtually, many of the students did not have the opportunity to visit UHart until campus tours resumed in the summer. Zeiser personally gave tours to more than 250 students and said he could feel their excitement and positive energy as they walked the campus. 
We already know how special this class is by the obstacles they had to overcome to get here. It's wonderful to finally welcome them to UHart!
Rick Zeiser, Dean of Admission
The University offers more than 100 undergraduate academic programs that span the arts, humanities, business, engineering and technology, education, and health professions—with some of our largest programs among the new students being nursing, architectural design & technology, psychology, biology, business, physical therapy, art, and music theatre. UHart also launched two new programs this year. The Class of 2024 will be the first enrolled in our new programs in exercise science and robotics engineering.
The incoming class is also accomplished academically, with more than 400 qualifying for Honors courses. The average Grade Point Average of first-year students is 3.2 out of 4.0, and eight students competed for and received full-tuition scholarships from the University.
More than 40 percent of the new students identify as a person of color, with 13 percent acknowledging they had a parent or guardian attend UHart. 39 percent of students are the first person in their immediate family to attend college and 98 percent are receiving some form of financial aid.
The class also includes 44 students who qualify for the University's Hartford Scholars program as Hartford residents who attended a Hartford public, Capitol Region Education Council (CREC), or Project Choice high school. 
"We know this year has been quite a bit of a roller coaster with everything to do with the pandemic and what's happening in the world with social justice," says Dean of Students Aaron Isaacs who also oversees UHart's Division of Student Success. "We're really excited to provide the new students with a bit of normalcy as we encourage them to surround themselves with people who care about them and who are eager to help them fulfill their dreams."
Watch our special video tribute to our new students!