Your Success is Our Focus
CETA's Expert Faculty and Staff
Our motivated faculty and staff are equipped with the skills, experience, and passion necessary to help ensure students successfully attain their goals. From research projects to academic support, the CETA community is here to guide students every step of the way.
Each of our faculty and staff members strives to build personal relationships with students and know them by name. At CETA, you are not a number. We provide personalized assistance to help students navigate the transition from high school to college, and then college to a career.
Meet the Dean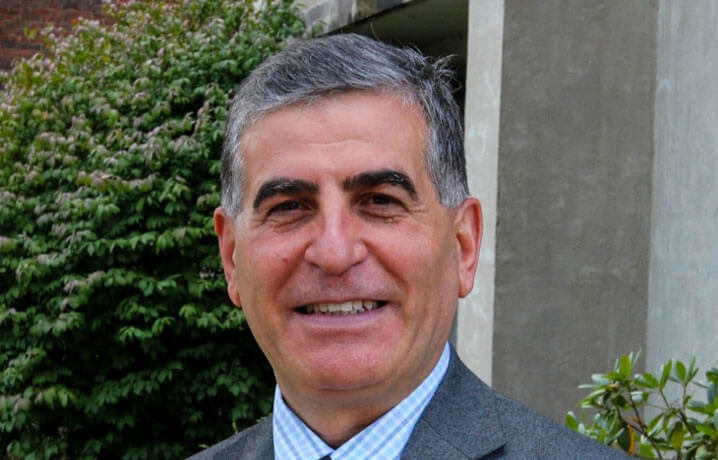 Dean Hisham Alnajjar has been with the University of Hartford and CETA for over twenty-five years. Prior to his role as Dean, he served as a Professor of Electrical and Computer Engineering and Associate Dean of the College.
Alnajjar has been instrumental in the growth of our College through new programs and partnerships with industry, as well as the development and execution of the Hursey Center.
He specifically has worked extensively in signal and image processing including character recognition. His research interests include sensor array processing, digital signal processing theory and real-time applications, power systems in addition to engineering education.
All my professors, especially Professor Kiwon and Professor Asaki, inspired me to do things that I would never think of during my four years at this University."
Sebastian Arreola '23, Computer Engineering, CETA
Dean's Office
| Name | Phone | Location | Title |
| --- | --- | --- | --- |
| Alnajjar, Hisham | 860.768.4868 | UT 233; UT 205 | Dean; Engineering Applications Center, Administration, Dean's Office for CETA |
| Krusiewicz, Colleen | 860.768.5284 | UT 203 | Executive Assistant, Dean's Office for CETA |
| Poulin, Allison | 860.768.5795 | UT 203 | Office Coordinator, Dean's Office for CETA |
Department of Architecture
| Name | Phone | Location | Title |
| --- | --- | --- | --- |
| Fuller, James | 860.768.5137 | HJG W205F | Department Chair; Program Director of Architectural Design + Technology, Associate Professor of Architecture |
| Bambury, Jill | 860.768.5953 | HJG W205D | Assistant Professor of Architecture |
| Crosbie, Michael | 860.768.4755 | HJG W205A | Professor of Architecture |
| Davis, Daniel | 860.768.4094 | HJG W205E | Professor of Architecture |
| Petry, Elizabeth | 860.768.5136 | HJG W205C | Associate Professor of Architecture |
| Sawruk, Theodore | 860.768.5763 | HJG W205B | Associate Professor of Architecture |
Department of Civil, Environmental, and Biomedical Engineering
| Name | Phone | Location | Title |
| --- | --- | --- | --- |
| Keshawarz, Saleh | 860.768.4032 | UT 234 | Department Chair; Program Director of Civil, Environmental, and Biomedical Engineering |
| Asaki, Takafumi | 860.768.4185 | UT 302C | Assistant Professor of Civil, Environmental, and Biomedical Engineering |
| Brown, Todd | 860.768.5420 | UT 302G | Adjunct Professor of Civil, Environmental, and Biomedical Engineering |
| Fang, Clara | 860.768.4845 | UT 222 | Professor of Civil, Environmental, and Biomedical Engineering |
| Hadad, Alan | 860.768.4308 | UT 302D | Professor of Civil, Environmental, and Biomedical Engineering |
| Miar, Solaleh | TBD | UT 309A | Assistant Professor of Civil, Environmental, and Biomedical Engineering |
| Pines, David | 860.768.4560 | UT 231 | Professor of Civil, Environmental, and Biomedical Engineering |
| Sussmann, Ted | 860.768.4615 | UT 237 | Associate Professor of Civil, Environmental, and Biomedical Engineering |
| Wang, Song | 860.768.4855 | UT 304E | Assistant Professor of Civil, Environmental, and Biomedical Engineering |
| Yang, Yang | 860.768.4316 | UT 304I | Assistant Professor of Civil, Environmental, and Biomedical Engineering |
Department of Electrical and Computer Engineering
| Name | Phone | Location | Title |
| --- | --- | --- | --- |
| Moslehpour, Saeid | 860.768.4211 | UT 302M | Interim Department Chair of Electrical and Computer Engineering; Chair of the Faculty Senate |
| Abu-aisheh, Akram | 860.768.5479 | UT 236 | Professor of Electrical and Computer Engineering |
| de Almeida, Michael | 860.768.4758 | UT 220 | Assistant Professor of Electrical and Computer Engineering |
| Dong, Yudi | 860.768.4366 | UT 304G | Assistant Professor of Electrical and Computer Engineering |
| Eppes, Thomas | 860.768.5808 | UT 228 | Professor of Electrical and Computer Engineering |
| Hill, Krista | 860.768.5086 | UT 235 | Associate Professor of Electrical and Computer Engineering |
| Liu, Qisi | TBD | UT 241 | Assistant Professor of Electrical and Computer Engineering |
| Mellodge, Patricia | 860.768.5334 | UT 304A | Associate Professor of Electrical and Computer Engineering, Program Director for Electrical Engineering |
| Plumley, Bruce | 860.768.4756 | D 117 | Visiting Assistant Professor of Electrical and Computer Engineering |
| Raphael, Johanna | 860.768.4864 | UT 304J | Program Director; Electromechanical Engineering Technology; Applied Assistant Professor of Electrical and Computer Engineering |
| Shen, Xin | 860.768.5563 | UT 304D | Assistant Professor of Electrical and Computer Engineering |
| Shertukde, Hemchandra | 860.768.4847 | UT 230 | Professor of Electrical and Computer Engineering |
| Shuman, David | 860.768.5483 | UT 224 | Program Director; Audio Engineering Technology; Assistant Professor of Electrical and Computer Engineering |
| Sohn, Kiwon | 860.768.4894 | UT 238 | Associate Professor of Electrical and Computer Engineering |
| Yu, Ying | 860.768.4752 | UT 225 | Associate Professor of Electrical and Computer Engineering |