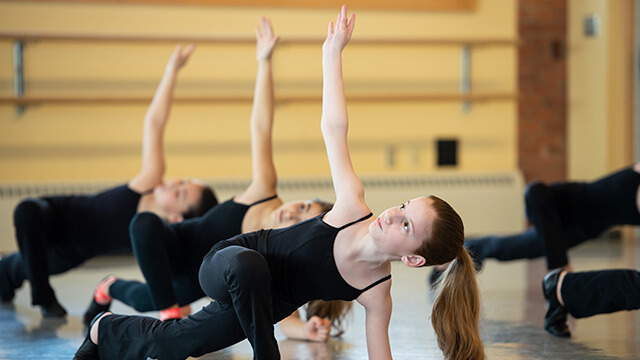 Youth jazz and conditioning classes are open to all, based on age and training backgrounds. These classes are designed to give students the opportunity to broaden their dance vocabulary and repertoire. 
Students who are also enrolled in the Classical Ballet Program are encouraged to supplement their study in Youth Program classes. Students are also welcome to enroll in Youth Program classes only.

All new students must fill out a placement form. Registration links will be provided to new families following the placement process.
2023-2024 Class Schedule
Jazz Classes
Instructor: Tyler Caisse
Beginner Jazz: Saturday, 9:45-10:45 a.m.
Division I–Level C and Division II–Level 1 students are eligible to register.
Tuition: $710
Intermediate Jazz: Tuesday, 4:45-6 p.m.
Division II–Level 2 and 3 students are eligible to register.
Tuition: $710
Advanced Jazz: Saturday, 10:45 a.m.-12:15 p.m.
Division III–Levels 4, 5, and 6 students are eligible to register.
Tuition: $710
Conditioning Classes
Instructor: Janelle Holmes
Division II Dance Conditioning: Saturday, 9-9:45 a.m.
Division II students are eligible to register.
Tuition: $710

Division III Dance Conditioning: Saturday, 9:45-10:30 a.m.
Division III students are eligible to register.
Tuition: $710