Profound support. It's what brings us together and sets us apart.
At the University of Hartford we know a student's success in college takes a village. Over the next four years, your student's village will include faculty, fellow students and you–their family! 
Here we've assembled resources for you to help your child succeed during their time at UHart. Below you can learn about everything from upcoming family events, where to send a care package, see the academic calendar, and learn how to add money to your child's HawkCard.
We welcome you and your family to the unique environment that is the University of Hartford.
Send Your Student Mail!
Your student's mailing address:
Send your student a care package, letter or card. They love to get mail.
University of Hartford
Attn: Student's Name
Student's Box Number
200 Bloomfield Avenue
West Hartford, CT 06117
Virtual Experience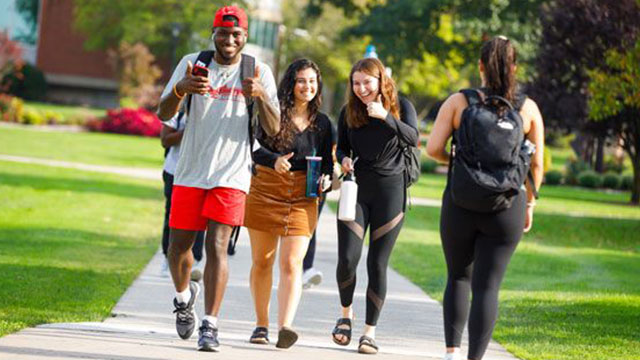 We want to bring our unique in-person experience to you and your student virtually. We have put together several opportunities for you to connect with our campus community. 
Interactive campus tour
Conversation witht the dean of admission
Webinars
Instagram FAQ
Meet Bates House Admission and Financial Aid Team
Parent Hour Webinars
Your child's move to college isn't just about transition for them. It's a transition for you too. We invite you to join our Parent Hour, a series of webinars on popular topics commonly faced by students and families in their first year. At each session, faculty and staff will present on a timely topic followed by a Q&A session. This is a great way to get your questions answered, stay connected, and learn about the University.
Save the date for upcoming Parent Hours this semester. Click on the hyperlink to listen to recordings of the webinars. 
Aug. 26, 2019, 8 p.m.: Final Checklist and Preparation
Sept. 10, 2019, 8 p.m.: Living and working with different people
How does it work?
For each session, we will send a separate email invite with a link to a webinar, where you can simply sign in and listen. We will include detailed login instructions with each invite.
Student Life & Support
At most universities, student life and academic services are distinct units with different goals and priorities. At the University of Hartford, Student Affairs and Academic Affairs exist together under one label: the Division of Student Success. 
Adjusting to college life can be a challenge. That's why, at the new Center for Student Success, we help students seamlessly transition into their first year. UHart students will receive one-on-one tutoring and support in areas such as:
We know that every student is different and we work collaboratively to celebrate and support each and every one of our students.
Find it Fast—Resource Links
Frequently Called Numbers