College of Arts and Sciences
MS in Organizational Psychology
If you are interested in helping companies increase employee satisfaction, retain talent, and maintain efficiencies and productivity, you should consider our Master of Science in Organizational Psychology program. Our flexible curriculum covers both theory and application of key organizational topics, giving you a theoretical framework in industrial-organizational psychology and organizational behavior. 
You develop the critical thinking and leadership skills needed to enhance organizational effectiveness and employee well-being, and you learn to promote teamwork, manage transitions, and restructure organizations while fostering a culture of inclusion and belonging. 

Quick Facts
36 credits, on-campus program or 100% online
Flexible, part time, or full time
On-campus classes in evenings, weekly
Asynchronous online classes
STEM Designated
Rolling admission for 100% online program (Spring, Summer and Fall)
Classes offered year-round
Read more in our Course Catalog
About the Program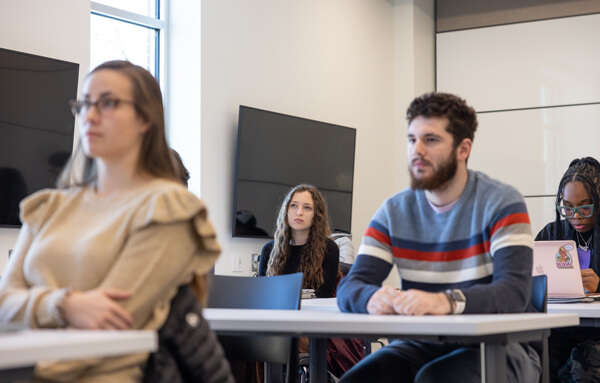 The integration of theory and practice in our MSOP program prepares you to lead, manage, and/or consult with dynamic and diverse organizations operating in a global environment. Courses may be taken in the Department of Psychology, School of Communication, and Barney School of Business for cross-disciplinary perspectives and unique analytical skills. The variety of electives offered, in combination with a core foundation in organizational psychology, enables you to tailor your graduate experience to your individual and professional needs.
Our curriculum aligns with Society for Industrial-Organizational Psychology Guidelines for Education and Training in I-O Psychology and offers solid training and internship opportunities if you wish to obtain a terminal master's degree and apply your acquired skills in organizational leadership and management in various work settings. It also offers opportunities for non-psychologist professionals to become more knowledgeable about the application of psychology to their professional interests, as well as a strong foundation for those who intend to continue graduate study in any area of psychology. The University of Hartford Psychology Department will give you the opportunity to make connections with a wide network of student colleagues and alumni professionals in the field.
MSOP PROGRAM FACTS :
No prior coursework in psychology or statistics is required for admission.
GRE scores are not required to apply for the program.
Typical class sizes range from 15 to 20 students
Choice of modality, either in-person or 100% online. Students may take courses across modalities, but are encouraged to complete their core, required courses within their cohorts.
Completion time ranges from as short as 12 months (full-time, online) to as long as four years (part-time, in-person), depending on your chosen course load. Most students finish within two years.
With the Graduate Director's approval, you can transfer up to two graduate courses (6 credits) completed within the last seven years.
Internships are recommended for students who need applied work/career experience. Internships for credit are available for on-campus students.
Capstones are required for all online students and advised for on-ground students who are well established in their careers.
Enrolled students may apply for competitively selected online and in-person graduate assistantship and teaching assistantship positions.
Students can apply for a streamlined Dual degree in both the MS in Organizational Psychology and an MBA, or to explore elective coursework in Business Analytics and Integrated Communications
 
Degree Requirements
The Organizational Psychology program is a 36-credit program with five required courses (15 credits) and student choice of seven elective courses (21 credits). With approval, up to two electives may be in General Psychology (0-6 credits) and up to three electives may be from the Barney School of Business (0-9 credits).

For more information, and to see a complete list of degree requirements, visit the Course Catalog.
There are five core degree requirements (15 credits):
Introduction to Industrial/Organizational Psychology (PSY 535)  
Personnel Psychology (PSY 555)
Experimental Design (PSY 510)
Advanced Research Methods (PSY 581)
A 3-credit Capstone project (required of all online students) or Internship course (option for on-ground students) is also required to graduate.
You must complete seven electives (21 credits). Numerous options are available as shown in the Course Catalog. Common MSOP elective examples include:
Motivation in Organizations
Diversity and Inclusion in the Workplace
Introduction to Workplace Training Program Design and Effectiveness  
Leadership: Theory and Practice  
Consulting & Professional Practices
Stress: Causes, Consequences and Management (general psychology offering)
Many more options available!
The Capstone course (PSY 625 – 3 credits) is required for all online MSOP students and is a culminating degree option for on-campus students. This option should be seriously considered by students who are working full-time and who wish to apply organizational material in their current job settings. Capstone projects may be completed in either a seven-week or 14-week course timeline, chosen by the student.
The Capstone project emphasizes individual study of the literature and application of researched findings to a workplace problem. Final products include scholarly literature reviews and an applied component that aligns with the student's topic selection and researched findings. Students will complete individual Capstone projects with the support of an advising faculty member and a small group of student colleagues.
The Internship option (PSY 680 – 3 credits) is provided for those students who wish to obtain practical experience in an organizational setting for degree credit. Internships are recommended for students who need additional, applied work experience and may not already be employed full-time. Internships for degree credit are only available for on-campus students, though any enrolled student who wishes to obtain applied experience through an internship is encouraged to explore all such opportunities available.
Master of Science in Organizational Psychology students will:
Become proficient in using the scientific method to critically review social science research literature.
Successfully integrate theory and practice as applied to the organizational science in the workplace.
Know and understand the scope and methods of organizational psychology and its practical application in the workplace.
Develop in-depth knowledge in at least one current topic in organizational psychology, including, but not limited to work motivation, emotional intelligence, diversity in the workplace, and creativity in organizations.
Accumulate knowledge from different scientific disciplines.
Produce writing that meets high-quality academic standards of presentation, organization, documentation, analysis, and substance.
Application Process
The online application process is easy and convenient—and you can begin from any web-enabled device. 

The online program admits new students in fall, spring, and summer with rolling admissions reviews year-round.

On-campus students begin their program in the fall semester, annually. Review of on-campus program applications begins in February and continues on a rolling basis until the fall program start.

The following is required for admission to the MSOP Program:
A non-refundable application fee of $50.00 (to be paid online)
A completed bachelor's degree (regional or national accreditation) in any field.
A letter of intent describing interests, goals, and program fit as specified in the online application
An updated professional resume
Three Letters of Recommendation as specified in the online application
For more information about requirements and deadlines, visit Graduate Admission
100 Percent Online Option

The University offers three opportunities a year to begin the online MSOP program—each fall, spring, and summer semester. The application process is easy and convenient—and you can begin your psychology classes from any computer. We're ready to answer your questions and provide assistance to get you started, including application deadlines and start dates. Contact an admission counselor today at 860.768.4371 or email online@hartford.edu.
About the online MSOP Program
Convenience
Earning an online MS in Organizational Psychology is the ideal way to advance your career from the comfort of your home or office. The program is built around your busy life in an engaging, vibrant, and diverse social network of motivated peers—with a small cohort size—aimed at keeping your network manageable and beneficial. To simplify your path to earning your psychmaster's degree, there are no required class meetings or login times. With our fully online educational model, with asynchronous course delivery, you can take courses at your convenience, moving through the program at a pace that fits your needs rather than on a set schedule. With three cohorts starting each year in Spring, Summer and Fall, students can begin the program when it is most convenient for you.
Quality
Under the guidance of faculty members trained in industrial and organizational psychology who present and publish in these disciplines and have a variety of field experience, students are prepared for a career in organizational psychology, or related fields, with the necessary foundational skills. Our program curriculum is designed to align with the Society for Industrial-Organizational Psychology's (SIOP) guidelines for education and training in I-O Psychology. As a traditional, not-for-profit institution chartered in 1957, we are regionally accredited by the New England Commission of Higher Education (NECHE) and the Commission on Institutions of Higher Education (CIHE).
Flexibility
Get what you want out of the program. Our required and elective courses provide you with experience and training in organizational psychology centered around real-life, professional applications of the issues presented. Our program offerings in organizational psychology and opportunities to complete elective coursework in business leadership and management, and communications, allow students to created tailored degree plans in accordance with personalized career goals. Go at your own pace—one or two classes at a time—to achieve your degree when you need it.
Affordability
While you cannot put a price tag on convenience and flexibility, with our affordable online MSOP program at the University of Hartford, you can obtain a quality education and Master's degree while completing your personal and professional goals. Applicants are encouraged to check with their employers about funding options and educational partner discounts. Once enrolled, students may apply for graduate assistant and teaching assistant positions on-campus and online. Scholarships may also be available to prospective and enrolled students. 
Tuition
Summer 2023, fall 2023 and spring 2024 tuition rates for the Organizational Psychology, MSOP program are below:

| | Per Credit Rate |
| --- | --- |
| Organizational Psychology, MSOP | $726.00 |