Tools and Tips
Citation Guides
Learn to write about and cite music and other resources.
See citation guide
Music Copyright
Find information about copyright, fair use, licensing, and more.
See music copyright
Video Tutorials
Watch and learn how to find music, books, articles, and more.
View tutorials
More Music/Dance Discovery Tools
Find Music and Recordings
Library Catalog—Find music and dance books, scores, and recordings in the Harrison Libraries.
WorldCat—Request materials from other libraries around the world.
Music and Dance LibGuides—Guides to resources for specific topics and instrument groups.
Streaming Audio Databases
More Music Discovery Tools
More Article Discovery Tools
Top Dance/Theatre Databases
Featured Resource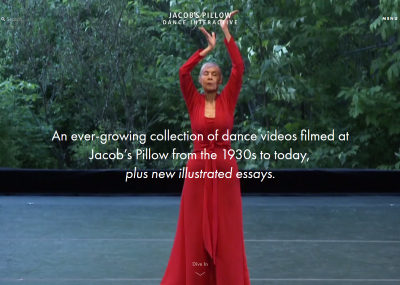 Jacob's Pillow Dance Interactive
From the oldest summer dance festival in the U.S., historic and recent performances in a wide range of styles, interviews with artists, multimedia essays, and more.