The Prism Project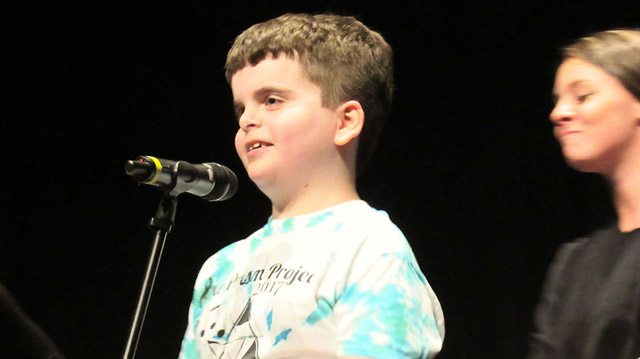 The Prism Project at the Hartt Community Division is a performing arts experience for students with exceptionalities. Students age 7–17 years have the opportunity to practice important social skills while participating in rehearsals for a final performance. Each student performer is paired with a University student buddy who is their one-on-one guide and support at every rehearsal and during the performance.
The Prism Project is modeled after the program at Ball State University in Indiana. Rehearsals take place on Sundays from 1–2:30 p.m. at The Hartt School. Students of all abilities are encouraged to participate. 
Tuition and Registration
$125 for both private lesson students and all others.


The first rehearsal will be held on Sunday, February 2 from 1:00–2:30 p.m.
Following Rehearsal Dates
February: 9, 16, 23
March: 1, 8, 29
April: 5
Dress Rehearsal
Sunday April 19, 1:00 p.m. 
Lincoln Theater
Performance 
Sunday, April 19, 6:00 p.m.
Lincoln Theater 
Meet Jacqueline Smith, Ph.D
Jacqueline Smith is the Prism Program Director, Suzuki piano instructor, and instructor of the aforementioned programs on this page. Her research interests include teaching music to children with exceptionalities, collaboration between music education and music therapy, assessment in instrumental music education, and teacher education.
To help my students to develop their musicality requires that I teach them in the manner that best suits their learning needs. I think deeply about how to adapt my teaching to best help my students to learn so that each child will achieve success in some manner every week in the lesson.
Jacqueline Smith, Prism Program Director
"It's Okay to Say"
The Hartt School Community Division is committed to providing access to our programming for all populations, including children and adults with special learning needs. In order to best serve students with exceptionalities, we strive to maintain an open dialogue of clear communication with families and students about their specific needs. Although we are unable to provide the same services as public schools, or other programs that specialize in this area, we will work with each family to identify resources and support structures to help the student to succeed.