We are here to help.
Adult Academic Services is a general resource for all part-time undergraduates at the University of Hartford.

We provide support in the following services:
Part-time University Studies programs, including the Associate in Arts

in 

Liberal Arts, the Bachelor of Arts in University Studies,

Associate in Science and Bachelor of Arts in University Studies Paralegal Studies concentration, and the Bachelor of Arts in University Studies Montessori Education concentration

Certificate programs (post bacc-pre-med, paralegal, and computer science)
Beta Psi Alpha chapter of Alpha Sigma Lambda, a national honor society for adult part-time students
Coordinating testing and alternative credit options: CLEP, DSST, distance exams and the LINCS portfolio assessment program
Providing general information to non-matriculated, part-time students on all undergraduate programs
Please note: If you are a non-matriculated/non-degree student (a student not formally accepted into a degree program) then please reach out to the Center for Student Success.
We look forward to working with you and helping you achieve your academic goals. 
Programs Designed for Adult Students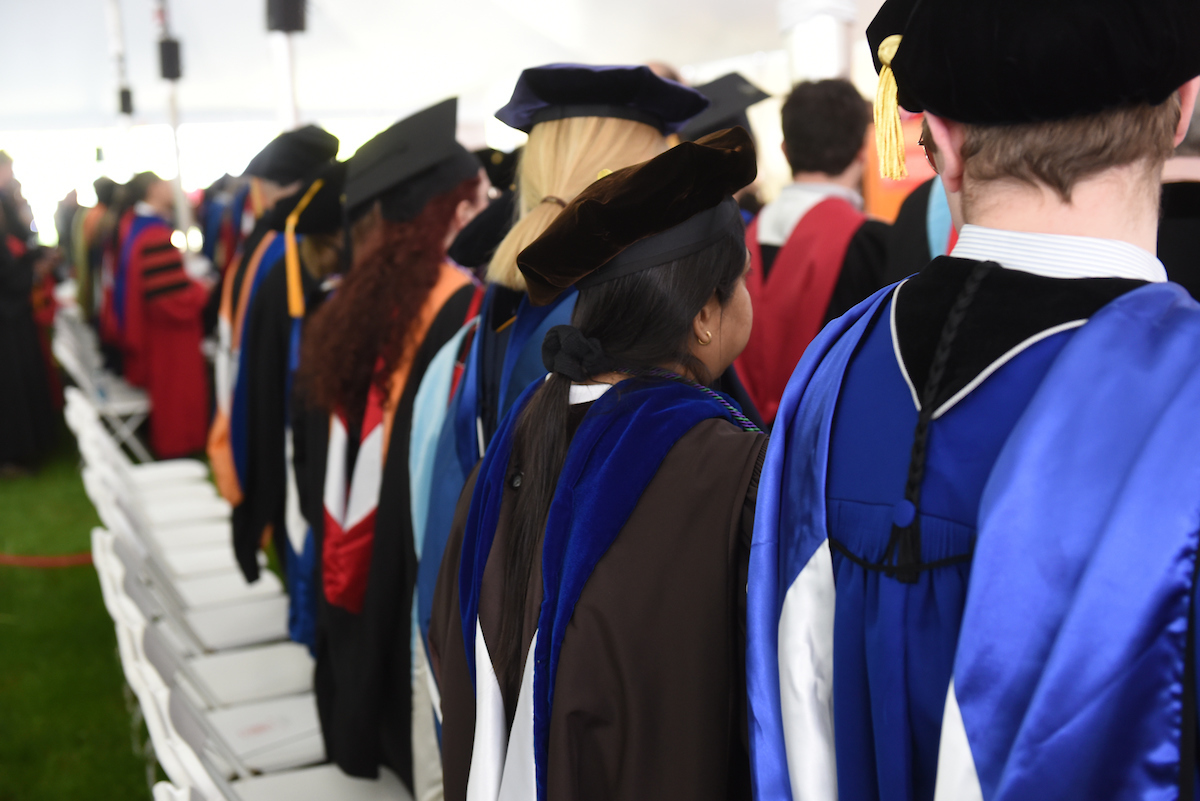 Accreditation
The University of Hartford is accredited by the Board of Higher Education of the state of Connecticut and by the New England Commission of Higher Education. Individual schools and programs carry additional accreditations. For more information on accreditation, please click here.
Honors Options
Graduation honors are awarded to University Studies students who have completed a minimum of 45 credits for a grade in residence at the University of Hartford. Bachelor's degrees are conferred cum laude on students whose cumulative GPA is 3.25 or above, magna cum laude on students whose cumulative GPA is 3.5 or above, and summa cum laude on students whose GPA is 3.75 or above. Courses taken on a pass/no pass basis are not counted towards the 45 credit minimum requirement.
The University Honors program is designed for academically motivated students and offers an enriched curriculum and additional learning experiences. Students completing the honors program requirements will have university honors noted on their diplomas.
For more information visit the University Honors Program.
The Alpha Sigma Lambda National Honor Society was established in 1946 to honor superior scholarship and leadership in adult students. To be eligible for the University of Hartford's Beta Psi Alpha Chapter, students must have senior status, must have earned a minimum of 24 graded semester hours in an undergraduate degree program at the University, and must have a minimum grade point average of 3.5 on a scale of 4.0. Eligible students are invited to join and are inducted once a year during the spring.

For more information about the University's Beta Psi Alpha Chapter, contact the chapter coordinator, Kellie Westenfeld.
Alternative Forms of Credit and Testing
The University of Hartford allows a limited number of credits from testing and alternative sources of credit to count towards an undergraduate degree. Students should consult with the admissions office and their college evaluator for specific information on their degree programs requirements and limitations.
The American Council on Education evaluates non-academic training programs for college credit equivalency. Training programs, not the University or individual students, initiate requests for evaluation. The University of Hartford considers ACE equivalencies when evaluating a non-traditional student for transfer.
The CLEP Program, developed by the College Entrance Examination Board of Princeton, is based on the assumption that many people know more than their records of education suggest. By taking CLEP exams, people can gain academic recognition for what they know and can do, regardless of how or where their knowledge was acquired. As of December 2011, the University of Hartford no longer administers the CLEP exam on site; however, the University continues to accept CLEP credits for transfer to help students meet their degree requirements.
Students interested in pursuing CLEP credit should follow the procedure below:
Verify course credit. Before registering to take an exam, it is important to check with your advisor and your college evaluator to make certain that the credits for the course can be applied to your degree program.
Check the College Board website for more information on the tests, course equivalencies at the University of Hartford, test study guides, and test center locations.
Register for the exam at the center that offers the most convenient time and place for you.
Request that CLEP scores be sent to the University of Hartford. You will have an opportunity to do this when you sign onto the computer the day of the exam. The University's test code is 3436. Students should allow a minimum of three weeks from the time of their exam to when they need the credits to be posted on their University of Hartford transcript.
Individual departments may make the credit by exam option available to University of Hartford students. This option allows students to earn credit for specific courses by passing a comprehensive examination.
Process for Earning Credit through Credit by Exam
Student discusses possibility of credit by exam with professor.  If the professor agrees, then student proceeds.
Student completes the Application for Admission to Credit by Examination
Student takes a copyto the department offering the class and obtains signatures of the Chair of the department offering the class and the Dean of the School in which the department resides.
Student takes their signed copy of the Application to the Center for Student Success and pays the appropriate fee.
University of Hartford's portfolio challenge program allows students to earn credit for learning that has taken place outside the academic environment. Basically, LINCS requires students to document learning related to specific courses offered by the University. Please contact Kellie Westenfeld for more information.
Transfer credit from other colleges is evaluated initially by the Undergraduate Admissions Office. Even though transfer credit has been accepted by the Admissions Office, students must check with their college evaluators to determine how the credit will apply towards their degree program.