UHart's Top 20 Moments of 2021
What a year 2021 was! Let's take a look back at our most memorable moments. 
It was another exciting year at the University of Hartford filled with successes inside and outside the classroom. It wasn't a year without challenges, though, as our community continued to learn new ways to navigate through the pandemic ending the year stronger than ever.
As we reflect on 2021, we are reminded of many well-deserving achievements, and most importantly, how talented our students are!  We are so proud to have so much to celebrate.
Here are some of our biggest achievements in 2021. 
1. We transformed campus with the opening of the Hursey Center.
2. Our campus honored and remembered Dr. King.
On Feb. 10., the UHart community paid tribute to Dr. Martin Luther King, Jr., at our annual observance of MLK Day. We welcomed Dr. Yusef Salaam, criminal justice activist and one of the exonerated "Central Park Five," for a virtual moderated conversation. This powerful program included a poem recitation by Associate Professor Joyce Ashuntantang.
6. We invested in our graduate education success.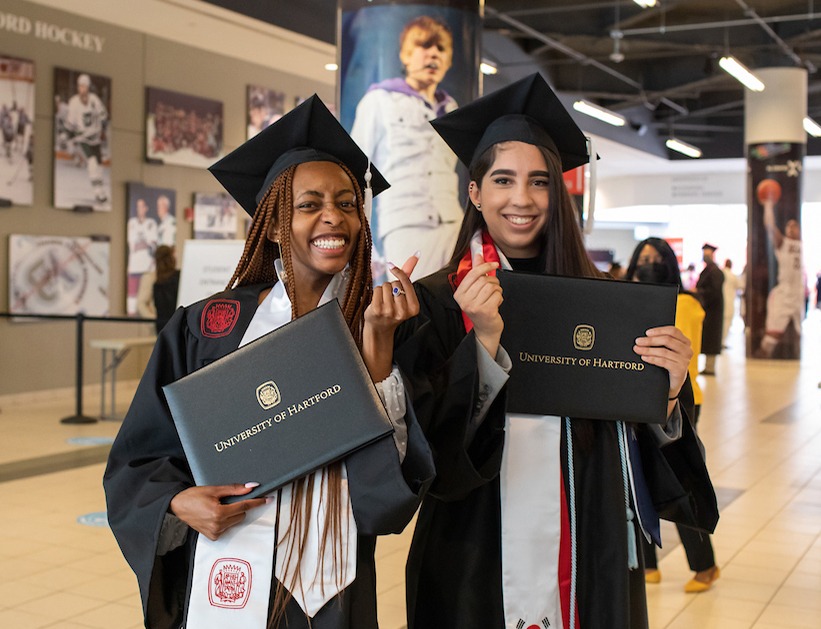 The global marketplace is shifting and more and more students are choosing to invest in a graduate education at the University of Hartford. As our graduate programs keep growing, we are making an added investment in our students and their personal and professional goals through the new Hawk Alumni Scholarship. The Hawk Alumni Scholarship provides a scholarship equivalent to a 25 percent tuition discount for all UHart alumni entering select master's degree programs beginning in the spring 2022 term.
7. We welcomed new UHart students and launched new programs.
Recognizing that the needs of our students are constantly changing, we look to our 100+ academic programs and find ways that we can improve upon the majors and minors we offer students. This past year, we added Data Science, Aerospace Engineering, and Occupational Therapy. Over 1,150 new students to campus, as well as existing students, will have the benefit of these new programs for years to come.
Read more about our new Hawks
8. We continue to be impressed by our talented alumni.
UHart was honored to present the annual Anchor Awards on Oct. 14 to recognize alumni for their outstanding accomplishments and their commitments to bettering their communities: Steve Collins '89; Lauren Fleming '13; Ryan Gardner '01; Senator Sonya Halpern M'90; Nicole Hughey M'99; Alexa Keener '16, M'18; Aymsley Mahoney '06; Steven Minkler '86, M'00, D'08; Jerrell Parker '04; and the Distinguished Alum Award to Vin Baker '93.
See our alumni achievements
9. We established new DEI scholarships for our students.
UHart partnered with multiple companies to create scholarship programs and unique internship opportunities—many of which are for students in underrepresented populations.
This year, global IT company CGI established a Diversity Scholarship at UHart available for students in computer engineering, computer science, data analytics, and data science. The Hartt School partnered with NETworks, a touring production company for Broadway theatre, to offer four scholarships for stage management and technical theatre students each year. Our Pratt & Whitney DEI scholarship program, which started last year, is thriving with 10 current scholars participating and is expanding to include a mentoring program with our alumni serving as mentors! And most recently announced at the Barney School's annual F.I.R.M. event, Stanley Black & Decker is creating a new DEI scholarship to support Barney students—we are excited to share more about this new program in 2022!
10. HAS and ENHP students collaborated on never-before-seen materials for the traveling exhibition Bespoke Bodies.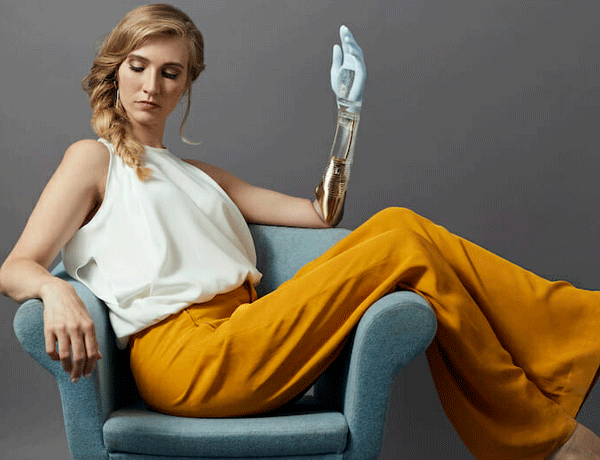 Joseloff Gallery hosted Bespoke Bodies: The Design and Craft of Prosthetics, a traveling exhibit from the Design Museum that explored the past, present, and future of prosthetic design. Adding to the exhibit was an interdisciplinary project that included visual communication design and fine arts students in the Hartford Art School and students in the prosthetics and orthotics program in the College of Education, Nursing and Health Professions.
11. A Hartt School alumnus makes his playwriting debut on Broadway.
Douglas Lyons '09 is no stranger to Broadway, having performed in such shows as The Book of Mormon and Beautiful: The Carole King Musical. But it's his talent behind the scenes that currently has him in the spotlight. Lyons's playwriting debut, Chicken & Biscuits, officially opened on Broadway at the Circle in the Square Theatre in October.
Read about his success
12. Our School of Communication students created their own student-run agency.
Students working in Crested Communications, the new student-run agency in the School of Communication, are gaining real-world experience by producing public relations, advertising, and branding campaigns for real clients in the greater Hartford area and beyond.
More on Crested Communication
13. Barney School students win international risk management competition
Our students competed against 18 other universities from around the world and successfully delivered their risk management strategies to leaders in the profession during the RIMS LIVE 2021 virtual conference. Congratulations to Barney School of Business students Aliyah Abdullah '22, Semra Boluk '22, Nick Bosio '21, and Yoanny Brito '21 for winning first place at the 2021 Spencer-RIMS Risk Management Challenge!
Check out their winning strategy
14. Our students played an integral role in the opening of a world-class arts center
UHart and Five Points Center for the Visual Arts (FPCVA) partnered on a new initiative to assist FPCVA in its opening of a world-class art center. While the well-known gallery remains downtown, the new FPCVA site, located on what was formerly the University of Connecticut's Torrington regional campus, will include a 30,000- square-foot classroom building and 90 bucolic acres that will be transformed into a dynamic facility for cutting-edge exploration and community-driven activity. Students in four of UHart's schools and colleges had a unique opportunity to collaborate for FPCVA while contributing to different aspects of this initiative based on their programs and talents.
15. CETA first-year students and seniors return to an in-person Design Expo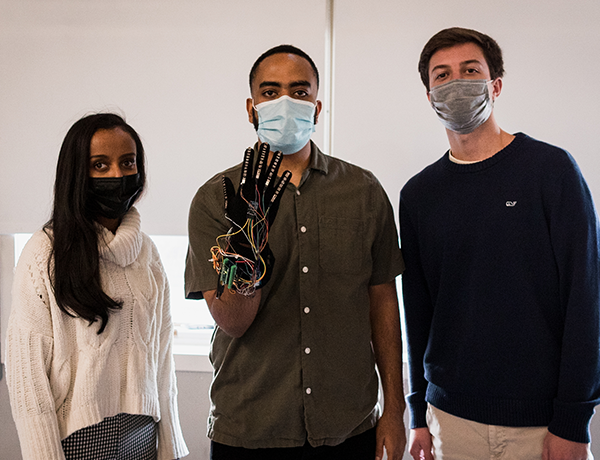 The College of Engineering, Technology, and Architecture hosted its Fall 2021 Design Expo on Dec. 3 on campus. Over 100 first-year students and graduating seniors participated in the event, presenting their innovative design projects. Students presented to industry professionals from companies including IBM Research, Grogan, Tuccillo & Vanderleeden, LLP, and Eversource Energy. Congratulations to the winners of this year's expo! 
16. Hillyer's Noel Casiano Honored by the City of Hartford
Hillyer College Assistant Professor of Psychology and Human Services Noel Casiano, PhD, was recently recognized by Mayor Luke Bronin and the City of Hartford as an "Influential Latino Leader and Professional" due to his work with the city's Latino community in the area of behavioral health and education.
Read full story
17. We mentored young men in Hartford through the Department of Public Safety's G.O.A.L. Program.
G.O.A.L.'s mission is to provide guidance and positive influence in young people's lives. In December, young men between 11 and 16 years old successfully completed the first months of this new initiative. During weekly group meetings, mentors meet with their mentees to talk about decision making, leadership, career goals, finances, and guest speakers. The group also visited the State Capitol and met with Governor Lamont, State Senator Douglas McCrory, and State Representative Robert Sanchez.
More about G.O.AL.
18. We celebrated The Women's Advancement Initiative reaching 15 years of education, opportunity, and impact.
The year 2021 marks the 15th anniversary of The Women's Advancement Initiative. The design of our signature program, LEAD (Leadership Education and Development), was inspired by the way students at Hartford College for Women were supported and challenged. We proudly celebrate 15 years of providing education, creating opportunities, and impacting the lives of women served through our programs.
Watch the celebration video
19. We RE:Connect[ed] at Hawktober.
We were thrilled to welcome back alumni and families for a hybrid weekend of virtual and limited in-person events—all themed around reconnecting with others. Highlights included a Jazz Brunch at alum-owned Rosedale Farms and Vineyard; Hartford Athletics Virtual 5K; Reunions for the Classes of 1970, 1971, and 2016; and a number of events for students and families. Thank you to all for helping us maintain the safety and health of our campus community!
20. Our Hawks continue to soar!
We ended the academic year by celebrating the success of our students—and in person! The May 2021 Commencement ceremonies took place at the XL Center in Downtown Hartford. Congratulations, Hawks! We're so proud of you. 
See where they are now—many were hired before graduation!
Congratulations, Graduates!
2021 would not be a success without all of you!
We've celebrated the opening of a new building, student achievements, exciting career opportunities, internship experiences, scholarships created, talented faculty, and so much more. But none of this year's accomplishments could have happened without our entire community working to Keep Hawks Healthy! 
We look forward to continued success in 2022. Happy New Year!