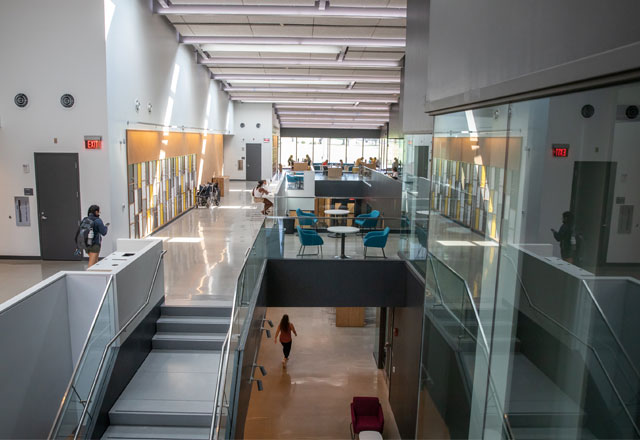 The Hursey Center opened its doors to new and returning students in the fall of 2021—and is already opening opportunities to a new kind of learning experience at UHart. The Center marks a significant milestone for the University of Hartford and its students. The gleaming 60,000-square-foot facility located at the heart of UHart's campus not only provides a beautiful environment for teaching and learning, but also enables the University to launch and expand programs that will meet the growing demand for professionals in engineering and health care.

The Bureau of Labor Statistics projects more than 2.4 million new health-care jobs will be created by 2026, more than any other job group.

BLS also reports employment in architecture and engineering occupations is projected to grow 3 percent from 2019 to 2029, with a median salary of $83,160 as of May 2020. With the Hursey Center, UHart will have expanded space for new programs that prepare students for high-demand careers in nursing, physical therapy, occupational therapy, aerospace engineering, robotics, and more.
College of Education, Nursing and Health Professions (ENHP)
ENHP prepares students for a wide range of careers that improve health and well-being. The Hursey Center enables ENHP to offer new and expanded programs to meet the demand for more health-care professionals and provides state-of-the-art labs and research spaces. The facilities are designed to promote interprofessional education, training students from multiple disciplines to work together as members of a health-care team to improve patient care.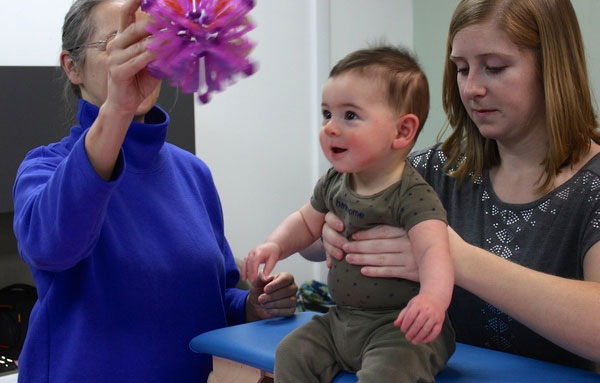 ENHP launched a new occupational therapy (OT) program this fall, beginning with a five-year combined bachelor's/master's degree program. Occupational therapists are in high demand, helping people with health challenges live active and productive lives. OT facilities in the Hursey Center include an OT skills lab with a climbing wall and therapy swings, a home-health suite with a working kitchen and accessible bathroom, and a shared neuro lab for OT and physical therapy students. UHart will also launch a post-baccalaureate Master of Science in Occupational Therapy in summer 2022.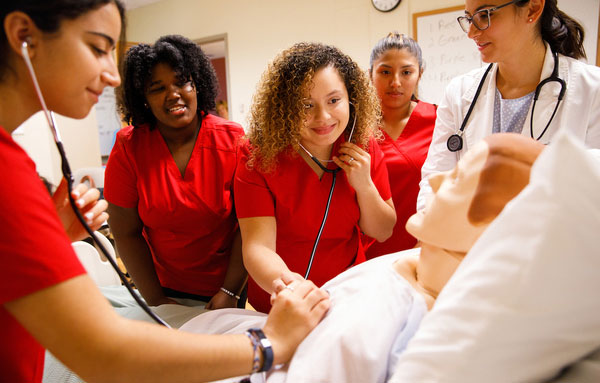 ENHP's direct-entry Bachelor of Science in Nursing (BSN) program began in 2019 and is the largest program in the College and one of the largest at UHart. Nursing spaces in the Hursey Center will accommodate this growing program and include an immersive simulation suite that replicates a hospital unit, a bedside skills lab with high-tech simulation mannequins, and outpatient exam suites. All the facilities will enable nursing students to practice patient care skills prior to beginning their clinical placements.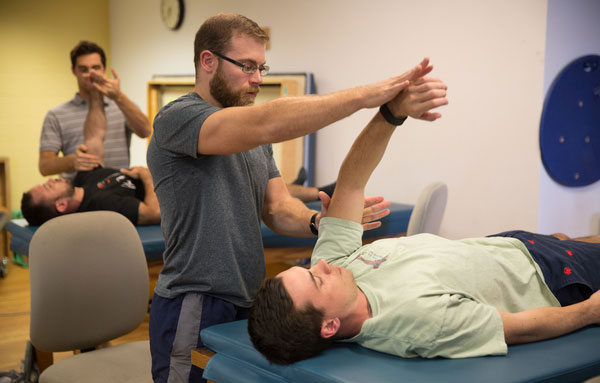 Launched in 2020, the new bachelor's degree program in exercise science prepares students for careers including sports medicine, personal training, and strength and conditioning. Exercise science is also the undergraduate pathway for direct entry to UHart's Doctor of Physical Therapy (DPT) program. The Hursey Center provides exciting facilities for exercise science and physical therapy, including a motion analysis/kinesiology lab, an exercise physiology lab, and expanded physical therapy skills labs/classroom spaces.
UHart's BS/DPT program offers an accelerated 3+3 option that allows students to complete their bachelor's degree in only three years, helping them start their careers sooner. It also allows students like Matt Glassoff '21 to conduct faculty-mentored research as undergraduates. Glassoff conducted research with UHart's baseball team to help improve their batting performance. "We're hoping that our final paper will be a resource for the coaches to better understand the relationship between their players' physical capabilities and on-field performance," he said.
Inside ENHP's Growing Programs
The Hursey Center is designed so that all of our health-care professions will have the opportunity to work with other students in our immersive simulation center. That's a very exciting highlight of the building that will enable our students to simulate a real-life health-care scenario. And having our students prepared to be collaborators and team communicators puts them at an advantage once they are employed in a practice setting that values collaboration and cooperation."
Cesarina Thompson, Dean, College of Education, Nursing and Health Professions
College of Engineering, Technology, and Architecture (CETA)
CETA continues to evaluate its program offerings to ensure students are prepared for the jobs of tomorrow. The College's leadership meets with industry professionals throughout the year to understand upcoming industry trends, in-demand jobs, and changes in the field that should be reflected in the course curriculum. Over the last two years, the College has added two new undergraduate programs to fit this demand. The Hursey Center houses new spaces for these programs, among others in CETA, to best prepare students for their careers.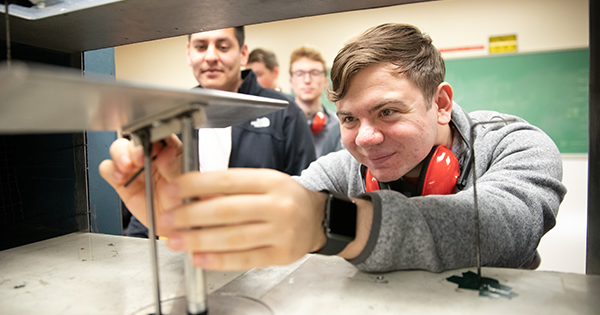 The only program of its kind in Connecticut, UHart's new aerospace engineering undergraduate program offers students the opportunity to learn technical concepts relevant to aerospace engineering and design, utilizing the current equipment and facilities in the Department of Mechanical, Aerospace, and Acoustical Engineering. Spaces available in the Hursey Center, Dana Hall, and United Technologies Hall include:
wind tunnels
materials and structures testing equipment
controls instrumentation
thermos/fluids experimental setups
Current students, like Alba Marcelin '23, also have the option to transfer into the program. She says, "My ultimate dream is to become a commercial airline pilot. A degree in aerospace engineering is a great way to bridge and open doors to many possibilities in the aerospace industry. Being able to work with airplanes and/or improving their systems for the environment is my main career goal."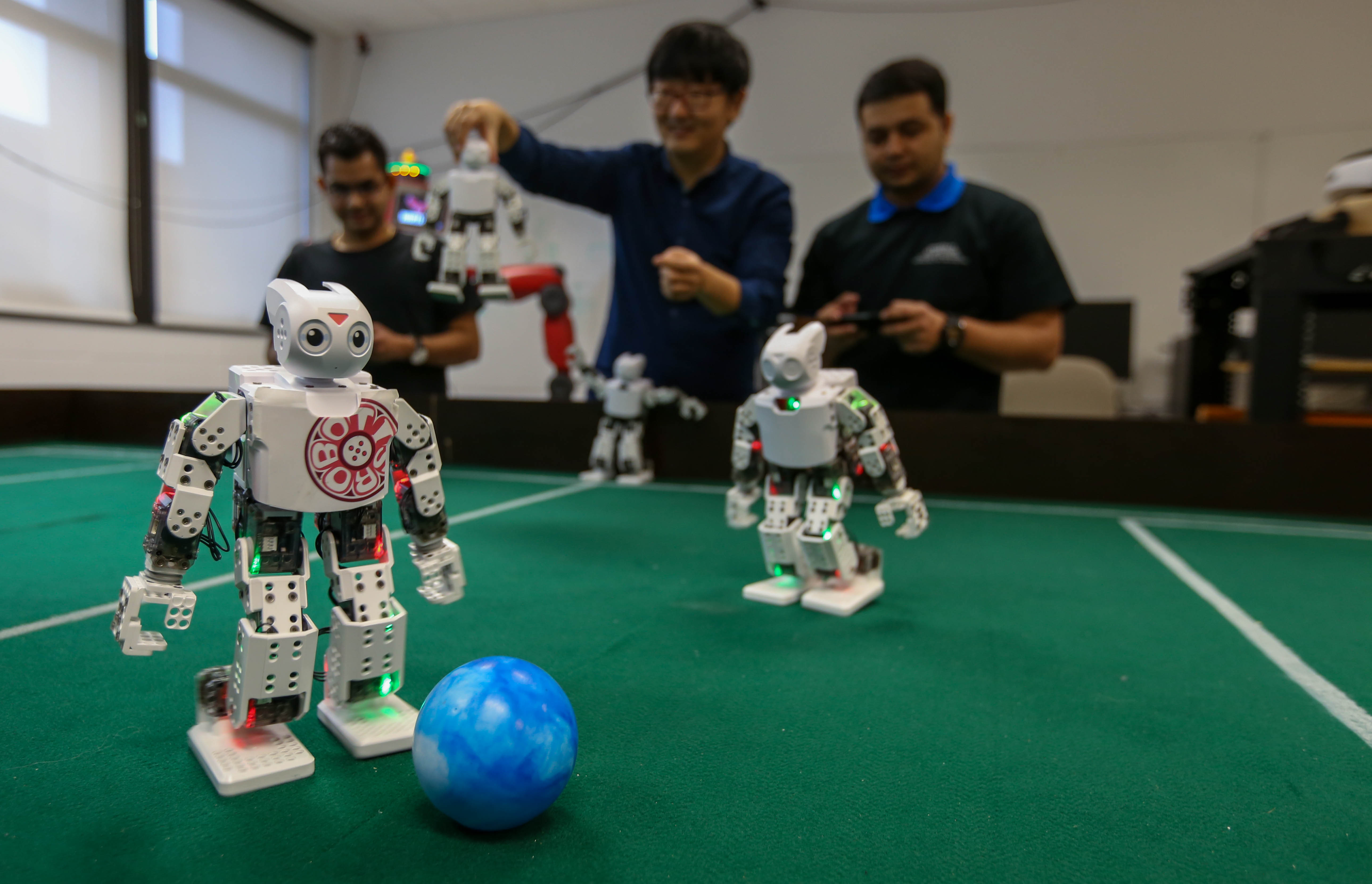 With the growing popularity of robotics in today's world, UHart's new robotics engineering undergraduate programs offers students the chance to develop key skills in robotics principles, designs, and operation for entry-level careers. With a newly added robotics laboratory available in the Hursey Center, students will experience general areas of robotics including sensors, actuators, embedded systems, computer vision and artificial intelligence (AI), as well as fundamental principles of perception, localization, locomotion and control of advanced mechanisms. Current multidisciplinary research efforts related to robotics in CETA cover not only ground vehicles but also underwater and aerial vehicle domains.

Salman Hussain '20, M'21 earned a dual bachelor's degree in computer engineering and computer science, and a master's degree in electrical and computer engineering. He was involved in UHart's Robotics Club, serving as the lead robotics researcher since the summer of 2019. He also served as an advisor for a local high school's First Robotics team. Now working as a software engineer II for the industrial automation company Siemens, Hussain credits the robotics program at UHart for preparing him for the workforce. He says, "The field of robotics is an expansive field that brings many fields of engineering and sciences together. It has applications ranging from medicine to military. Because of this, robotics can be for anyone."
Inside CETA's Growing Programs
"I'm especially excited for the Hursey Center because it provides more space to host our newer programs, such as aerospace engineering and robotics engineering. We have dedicated lab space based on these programs for students, particularly undergraduates, to utilize for their projects and research, and we have brand new equipment for students. These resources will allow our students to experience a new level of hands-on learning, including two new wind tunnels donated by Pratt & Whitney."
Hisham Alnajjar, Dean, College of Engineering, Technology, and Architecture
Programs benefited by renovations
The Hursey Center project has also allowed the University to renovate about 30,600-square-feet of space in Dana Hall and United Technologies Hall. These renovations will benefit multiple programs across the University, including:
Arts & Sciences
The Dana Hall renovation will include spaces on the fourth floor that will be converted into biology, chemistry, and biochemistry teaching and research labs, using space being vacated by the physical therapy program's move to the Hursey Center. These new labs will also accommodate ENHP students in nursing and other health programs who are required to take these science courses as prerequisites.
CETA
Along with CETA's newer programs, other programs in the College will benefit from this major project. Part of the renovations will include updated equipment for students' hands-on learning experience. Programs expected to see rejuvenated spaces include acoustical engineering and music, audio engineering technology, biomedical engineering, civil engineering, computer engineering, computer and electronic engineering technology, electrical engineering, electromechanical engineering technology, and mechanical engineering.