Do you think you know a lot about the University of Hartford? From academic programs to academic buildings, to clubs and organizations—we bet there are a few things on this list that you didn't know about.
Here is a look at the University from A to Z: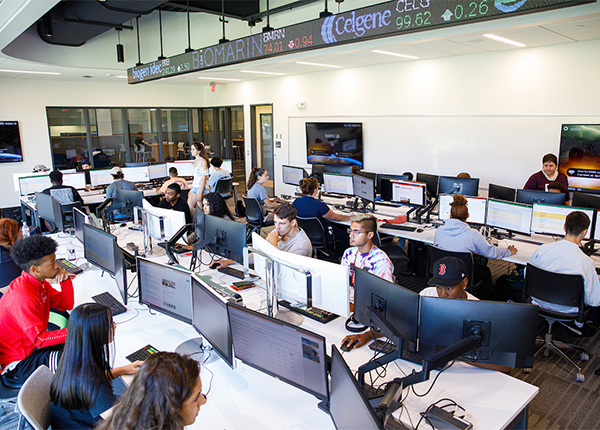 A is for Analytics Lab
The David C. Lincoln Trading Room and Analytics Lab is part of the recently opened 10,000-square-foot Barney School addition. Our implementation of Bloomberg Terminals as integral parts of the David C. Lincoln Trading Room and Analytics Lab is an example of our innovative experiential curriculum in practice. Our business analytics & managerial economics majors have access to this valuable tool, turning our students' knowledge into action.
B is for Business Pitch
The Business Pitch and Business Plan Competition is one of the signature UHart campus-wide events and benefits entrepreneurial minds from all colleges. The competition provides students the opportunity to present their business ideas in front of an esteemed panel of judges and get valuable feedback.
C is for Clubs
UHart has more than 100 student clubs and organizations. Opportunities to get involved include arts, sports, academics, Greek Life, and social justice. The Office of Student Life and Inclusion is grounded on the Pillars of Diversity, Equity, and Inclusion, Leadership Development, and Service Excellence. Can't find the group you're looking for— start your own!
D is for Data Science
Data Science is a new major offered by the College of Arts and Sciences. The program gives students the analytical and quantitative skills for a variety of careers including data scientist, data engineer, data analyst, data architect, or business intelligence specialist. Many students choose to minor in cyber security, earning a valuable skillset to protect businesses and organizations from cyber-attacks.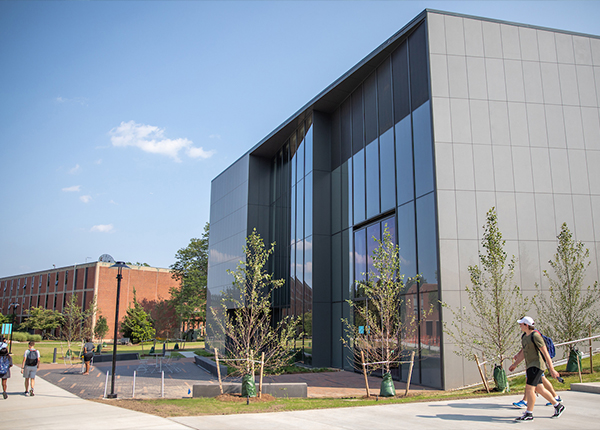 E is for Exercise Science
The exercise science program at UHart combines classroom, laboratory, and internship experiences that will give you a comprehensive understanding of physical health, fitness and human performance.
F is for First-Year
At UHart, we understand the importance of the first-year experience. Our students are prepared for success as soon as they join our University by being paired with an academic advisor in the Center for Student Success (CSS).
G is for The Maurice Greenberg Center for Judaic Studies
The Maurice Greenberg Center for Judaic Studies is home to a Holocaust Research Library with more than 5,000 books and videos. It is a top destination for Judaic scholars and students throughout the country. UHart offers both Bachelor of Arts and minor in Judaic Studies.
H is for Hursey Center

The Francis X. and Nancy Hursey Center for Advanced Engineering and Health Professions is transforming the UHart campus and academics by meeting the needs of high-caliber, dedicated, and deserving students. The 60,000-square-foot academic building houses new, specialized, and technology-rich facilities for our growing programs in the College of Engineering, Technology, and Architecture; and the College of Education, Nursing and Health Professions. 
I is for Internships

At UHart, we believe in the practical application of the skills being taught inside and outside the classroom. Internships are a valuable part of our student experience and with an ideal location and partnerships throughout the nation, we help make unforgettable experiences possible.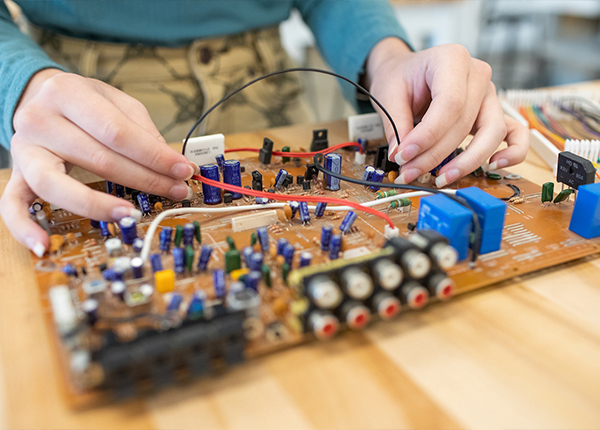 J is for Joseloff Gallery
As part of the Hartford Art School, the Joseloff Gallery hosts exciting works by national and international artists and hosts special programs throughout the school year.
K is for K-12 Education
Share your passion and inspire the next generation when you pursue a rewarding career as an educator for students in K through 12. The UHart education program prepares confident, versatile, and creative teachers that thrive in one of society's most important roles.
L is for Labs
With state-of-the-art labs in the Hursey Center, United Technologies Hall, Harry Jack Gray Center, and Dana Hall, UHart offers places for you to bring your imagination to life and discover experiential learning.
M is for Makerspace
Bring your creations to life! UHart has its very own makerspace in the Hursey Center that is equipped with power- and hand-tools, 3D printers, scanners, CNC (computer numeric control) machines, and lockers for students to create and store their prototypes.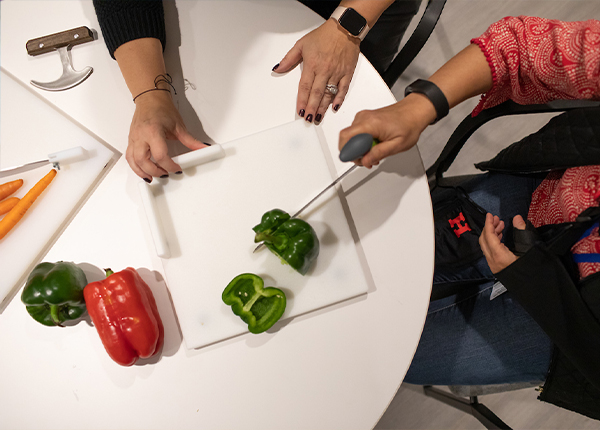 N is for Nasa
At UHart, our students' goals can be out of this world. The University has a unique partnership with NASA that offers students internship and funding opportunities. Assistant Professor Paul Slaboch says: "The level of this partnership between CETA and NASA sets us apart from other programs in the area. Students talk to NASA engineers, present their research, and have a true hands-on experience." Whether our students pursue a degree in aerospace engineering or another program within CETA, there are plenty of opportunities to dream big and do big things.
O is for Occupational Therapy

The UHart Occupational Therapy program trains students for in-demand careers that help people live active, productive, and independent lives. The full-time program prepares students for licensing as certified occupational therapists.
P is for Performing Arts
Through the Hartt School, a conservatory for music, dance, and theater, the University of Hartford has earned a rich history and strong reputation in the performing arts community. Here, students turn their passion into a profession, mentored by faculty who are performers, scholars, and creative artists themselves.
Q is for Quicker Degree Completion
Get your degree QUICKER, with one of UHart's accelerated degree programs. These opportunities help you fast-track your career while still providing an enriching academic experience. For example, within the Barney School of Business, students can their undergraduate degree and an MBA or MSAT in just four years, giving them an important competitive edge as they enter their field.
R is for Radio
UHart has two radio stations on campus. WSAM is an online, student-run alternative station, and WWUH 91.3 FM broadcast around the region and online and is staffed by students and community volunteers.  Read about the 50-year history of radio at UHart in the Winter 2019 edition of H Magazine.
S is for Stage Management
Our new BFA in Stage Management at The Hartt School prepares students for professional careers in all genres of performance, including theater, opera, instrumental performances, and dance. Students work with our in-house professional production crew as well as directors and designers from all over the country.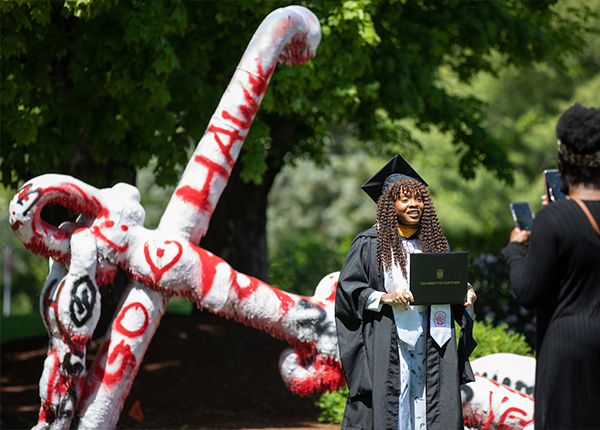 T is for Tutoring
At UHart, we provide our students with the resources they need to succeed. The on-campus tutoring center offers free peer-to-peer content and writing tutoring with a focus on engaging students in active learning to build academic strengths.
U is for Unique Opportunity (for dual admission)
Get the added support, resources, and attention you deserve as part of our unique dual admission program through Hillyer College. From the day you step foot on campus, you will be a part of Hillyer College as well as one of UHart's other schools. Pursue your passion while experiencing a smooth and tailored transition into college.
V is for Visual Communication Design
The Hartford Art School offers a BFA in Visual Communication Design where students learn how to design static and interactive work, which can include motion graphics, product packaging, advertising pieces, and so much more. Faculty include exceptional designers with years of experience within the field.
W is for Women's Advancement Initiative
Through the Women's Advancement Initiative, UHart positions women for success through education and leadership programs, research and scholarship opportunities, and career connections and experiences. Built of the heritage of the Hartford College for Women, this unique opportunity challenges, encourages, and empowers our female students.
X is for eXpert Faculty
At UHart, faculty are not only engaged in the teaching process, they are highly accomplished within their own fields. We are proud to share the accolades of our impressive professors and how their ongoing work, research, and study impacts the student experience.
Y is for Yearly Traditions
When you join the UHart community, you join a culture rooted in traditions that are greatly anticipated and highly celebrated. From Hawktober to Founder's Day, painting the anchor to singing the fight song, our students and alumni are bonded by these yearly traditions. 
Z is for ZeeMee
Accepted students are invited to download ZeeMee, a social application that connects them with the University and their fellow incoming students. This official private chat allows you to connect to our community, get social, and discover what to expect as a UHart student.